'EVIDENCE AGAINST MICHAEL JACKSON'S DOCTOR OVERWHELMING'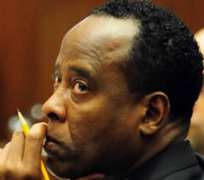 Murray
Michael Jackson's doctor was criminally negligent in the star's death, a prosecutor told the climax of Conrad Murray's manslaughter trial yesterday, saying there was an 'overwhelming' case against the medic.
Presenting his closing argument to the six-week trial, Deputy District Attorney David Walgren highlighted the impact of Jackson's 2009 death on his three children. Jackson died of 'acute propofol intoxication' at his rented mansion in the plush Holmby Hills district outside Los Angeles, where he was rehearsing for an ill-fated series of comeback concerts in London.
After the closing arguments, members of the jury who have sat through sometimes harrowing, sometimes bafflingly technical testimony will retire to consider their verdict. The doctor faces up to four years in jail and could lose his medical licenses if he is found guilty of Jackson's death. Murray, charged with involuntary manslaughter, violated a 'sacred trust' between doctor and patient, he said. 'The evidence in this case is overwhelming… that Conrad Murray acted with criminal negligence, that Conrad Murray caused the death of Michael Jackson, that Conrad Murray left Prince, Paris and Blanket without a father.
'For them this case doesn't end today or tomorrow or the next day, for Michael's children this case will go on forever, because they do not have a father,' he said. Murray, 58, is accused of causing Jackson's death by giving him an overdose of the surgical anesthetic propofol, combined with other sedatives, on June 25, 2009 to help the King of Pop sleep. The defense has argued that Jackson was a desperate drug addict who caused his own death by taking more medicines while Murray was out of the room at the star's rented mansion in Los Angeles.
But Walgren said the doctor was in charge, and could not escape the responsibility for the drugs which killed Jackson. 'A doctor has a… solemn obligation to first do no harm… Conrad Murray violated that sacred trust each and every day,' he added, speaking directly to the seven-man, five-woman jury. Walgren who noted that jurors had listened to 49 witnesses and seen more than 330 pieces of evidence over five weeks hammered Murray repeatedly for thinking only of his $150,000 dollar a month salary for looking after Jackson.
'At the end of the day… this case will come down to whether or not Conrad Murray reacted with gross negligence or criminal negligence in his treatment of Michael Jackson,' he said. Murray had a legal duty to look after the star, he said, adding: 'The failure to perform that legal duty is criminally negligent.' After Walgren's closing argument, Murray's defense lawyer Ed Chernoff was to take the floor for the daunting task of convincing the jury that Jackson was a desperate drug addict who effectively caused his own death. The accused doctor announced on Tuesday that he would not take the stand in his own defense at the Los Angeles Superior Court, where he has been on trial since September 27.
Murray's case was harmed by his own account of Jackson's final hours, given to police, in which he recounted giving a series of sedatives, including lorazepam and midazolam, in a vain attempt to help the star sleep.
The doctor claimed he left the star for only two minutes to go to the bathroom and returned to find Jackson not breathing. But that account was called into question by a series of factors not least a string of cell phone calls with women friends which Murray had at the time when Jackson was apparently on his death bed.