Rebranding Nigeria must start with politicians –Pete Edochie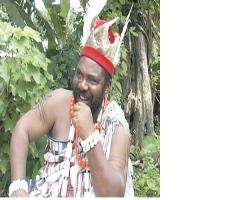 Chairman, Re-branding Nigerian Campaign Committee and veteran actor, Chief Pete Edochie, yesterday decried the flamboyant lifestyle of Nigerian politicians, insisting that rebranding of Nigeria must start with them.
This, he said, was because the politicians' flamboyant lifestyle was giving the country a bad image.
Edochie, who was released from a one-day captivity on Monday night by kidnappers was at the Government House, Awka to thank
Governor Peter Obi for facilitating his quick release.
He told newsmen that his captors told him while he was being held hostage that they were 'totally disenchanted' with the government and politicians for caring less for the multitude of unemployed youths.
Edochie, who also told his story with the kidnappers, said his captors said they saw kidnapping as their own way of cutting from the national cake.
"They told me they were waiting for a top government functionary but had to take me without any knowledge it was me," he said. Noting that the re-branding job he is currently doing was not for any fee, Edochie said: "You all know that I have neither held any government office before, nor have I been appointed to head any panel where money was spent. Even the chairman of the rebranding committee that I was made, I can tell you that I am not being paid a farthing and Akunyili can confirm that." He thanked Obi who, according to him, did all that was possible to see that he was released, adding that of all people that has been kidnapped, his raised the highest dust.
On the way out of the present kidnapping problem in the country, he advised politicians to moderate their flamboyant lifestyle and concentrate on developing their constituencies, just as he advocated free and fair elections as the best way to re-brand Nigeria. Responding, Governor Obi urged Nigeria to embrace free and fare election as the most credible re-branding that the country needs now.
He noted that once elections were free and fair, corruption would have been reduced drastically in the country. Obi said the state government was putting in place a more aggressive measure to ensure that the state was secured and urged the people to go about their normal businesses without fear.
Regretting that many people today who are without any visible means of livelihood were aspiring to leadership position, Obi noted that reduction of corruption would strengthen the country's economy, generate employment and empower the people. He commended Chief Edochie for remaining a worthy ambassador of the State and country.