BANKY W, DINEO TO CO-HOST CHANNEL O AWARDS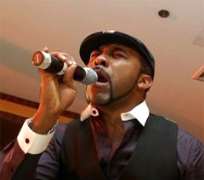 Banky W
Channel O's Dineo and Nigerian R&B superstar, Banky W have been confirmed as the hosts of the 2011 Channel O Music Video Awards.
The South African O-Access presenter and multi award-winning Nigerian artiste are set to bring glamour and huge amounts of swagger to the event that is being broadcast live from the Sandton Convention Centre, Johannesburg on Friday, November 11.
Since beating stiff competition to take the role of O-Access presenter last year, Dineo's star has risen - with speed! In 2010, this multi-talented presenter and performing artiste earned her first supporting role in the South African drama series, 'Soul City 10', as well as cameo appearances in the comedy 'City Ses'la' and the soon-to-be-released Winnie Mandela movie starring Terrence Howard and Jennifer Hudson.
The National School of the Arts graduate is also a musician, MC and voice-over artiste who is eyeing the big-time with her broad slate of talent and instant television appeal. For Dineo, who presents Channel O's O-Access, the chance to host Africa's most prestigious awards is a real honour.
'Of all the peaks during my time at Channel O, I never imagined this would come my way. I am honoured, humbled, pleasantly surprised and ever so grateful to be hosting this year's Channel O Music Video Awards. I am even more excited to have such a brilliant African artiste like Banky W as my co-host. Words cannot begin to describe how thankful I am for Channel O. I'm well beyond excited and I get tiny butterflies just thinking about it. November 11 can't come any sooner…Let the game begin,' Dineo says.
Banky W is a singer, songwriter, producer, entertainer, MC, entrepreneur and philanthropist whose appearance this year on L-Tido's smash hit 'It Aint My Fault' has significantly broadened his appeal across the African continent.
From his first record, 'Undeniable: The EP' to 2005's R&B and soul-heavy 'Back in the Buildin', and 2009's 'The W Experience', Banky W has proved his musical genius. He also co-owns one of Africa's fastest-rising record labels, Empire Mates Entertainment (E.M.E), overseeing the careers of young and talented Nigerian artistes, WizKid and Skales.
In addition, Banky W is a published writer (http://bankyw.blogspot.com) and his belief in the importance of philanthropic work has seen him launch the 'I am Capable' scholarship fund, which provides tuition, and accommodation at private universities for youth who are in need and meet the grade requirements. Banky W is also part of the 'Lightup Nigeria' Project, which is focused on achieving constant electrical power supply in Nigeria, as well as various other charitable society building and empowering projects.