Robbers Kill Two In Diamond Bank Raid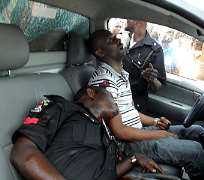 PORT HARCOURT, October 17, (THEWILL) – Two persons were killed Monday and a yet to be disclosed sum stolen when a gang of armed men numbering about six (6) stormed a branch of Diamond Bank Plc along Ikwere Road, Port Harcourt, Rivers State, where they attacked a Toyota Hilux truck belonging to Songhai Farms Limited, an agricultural company operating under a joint venture with the Rivers State Government.
THEWILL gathered from eyewitnesses that the armed men stormed the bank in two vehicles; one of them a gold-coloured Toyota Camry sedan.
The driver of the Songhai Farms' Toyota Hilux van with a Republic of Benin registration tag: 758 ONG and a police escort with tag number: 327787 were killed during the robbery inside the premises of Diamond Bank Plc.
Ironically, policemen who had mounted checkpoints along Ikwere road close to the bank took to their heels when the gunmen started shooting sporadically, according to eyewitnesses.
However, a team of policemen from the Mile One Division located a few meters from the crime scene arrived in an Armoured Personnel Carrier to secure scene after the robbers had left.
A brief text statement from Police spokesman, Mr. Ben Ugwegbulem to THEWILL, shed more light on the crime; "A gang of about four armed men operating in a Toyota Camry attacked a Hilux van with registration number 758 ONG RB that left Diamond Bank premises on Ikwerre Road, Mile 1, Diobu.
"A police corporal serving with the Save Our Soul (SOS) squad escorting the van and the driver were shot resulting in their death.
"Diobu police and the bank guard responded forcing the robbers to flee leaving behind the vehicle attacked from which the sum of N1.5 million was recovered. Investigation has been intensified with efforts to arrest the culprits."