'MY DESTINY IS WITH THE UNLOVABLE'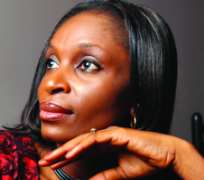 Nike Lamai
Pastor Nike Lamai works as an administrator in a Multinational Company and has worked there for 18 years, during which she has risen to become the Human resource manager, with more opportunities for growth.
Armed with a BA (History) from Ogun State University and a Masters in Industrial & Labour Relations, she is a member of Chartered Institute of Personnel Management (CIPM). She set up Hadassah Healing Foundation, a non-governmental organization, six years ago, solely for healing and restoration of women all over the globe.
How did you come about Hadassah Healing Foundation vision?
Without sounding too spiritual, let me say it came from God. For every assignment that God would have you fulfill on earth, he aligns you from birth. That is why, for every parent, you have to be sensitive and know what your children have been called out to be, so that you don't derail their destinies. I would say that God dropped me in a family of givers.
My mother is an addicted giver. We are just four in our family but my house is always filled with people from different places. I grew up to know how to give. In fact, giving is not a choice in my family; it is a tradition. Whether it is Christian or Moslem festival, my mother must reach out to people; she must reach out to the entire neighbourhood. When we were growing up, I didn't understand why she would cook and begin to give from house to house.
At some point, she was even out of the country for a while, based in America. My mum would ship things down to Nigeria during Christmas; she would even label for the individual recipient and send to us to distribute. So, we grew up to know how to give. That was the way God sharpened my destiny. In May 2005, I just had this urge and was looking for a way to reach out to people and give; I then took it to God and He spoke to me.
At that time in my church, we were planning a women's meeting tagged, 'Wounded but not destroyed'. It was meant for the women in Christian Cottage Ministries alone but God spoke to me. And what I heard was that the program was beyond just our church and that we needed to reach out to more women. The Lord confirmed this leading through my husband and another pastor friend of ours. That was how it all started and today, we have Hadassah Healing Foundation. It is all about giving spiritually, emotionally, physically and financially.
So, we can safely conclude that the destiny of Nike Lamai is to save women from destruction?
It is to reach out to as many women as possible; bring them out of obscurity into limelight; bring them out of their state of rejection and dejection and make them know that there is something about them that the world is waiting for. It is to bring out the destitute, the drug addict and every woman that feels that this world is not for people like her. I have counseled a number of people who feel like 'Pastor, you don't understand' and I tell them, 'I understand because it is actually people like you that God is looking out for.' Look at a lot of women in the Bible like Rahab, Esther and Mary Magdalene. Who would have thought that a slave girl like Esther could ever make it?
So, I believe God has called me. My destiny is to reach out to the unreachable and the unlovable. That is my destiny. I'm not called out to the high and mighty that feel they don't need God. I'm called out to those women who feel, 'There is something about me that I don't understand and I don't think this world has been fair.' I tell such people that if the world has not been fair to them, God loves them and can make something beautiful out of them. My destiny is to bring out something out of nothing. My destiny is to mould that woman that feels, 'I can't make it in life.' By the grace of God, I have a couple of them that have felt like this world is not for people like us or I can't sit amongst certain class of people and I tell them, 'walk tall.'
One of our core values is self-esteem. I am called out to let that woman know that, 'You can walk tall! That even though you are today seated on the floor, you can find yourself on the horse; you can find yourself sitting with kings. It depends on how you believe and what you think God can make out of you.' The change starts with you; then you light up your world.
Give us some examples of people whose lives have been impacted through this foundation
Where do I start from? They are just too many. There was a woman that has been waiting on God for the fruit of the womb for 10 years, whom God answered and gave her a baby boy. Then, Hadassah Foundation was able to empower her financially and now she has a lucrative business. We have some scholarship recipients in the higher institutions.
We have a lady who lost her father, a good man who left some inheritance for them to live on but her uncle sat on it after her dad's demise. Her mother is a petty trader. Here we go; she gained admission to study Engineering but the uncle refused to give her money for school. By God's grace, we came to her rescue and today, she is in 300 level at the Olabisi Onabanjo University. We have two other students at the University of Lagos; one studying Psychology and the other one Linguistics.
Also, we have women in business; women that started well but their business crashed and they are back at home with their arms folded, waiting for manna to fall from heaven. We picked up such women and helped resuscitate their business. We also have women who are just sitting at home, tying wrapper around and waiting for the husband to drop money that will never come. Such women, we have been able to set up in businesses.
That means a lot to me.
How do you identify the children and women in need of your assistance and are there criteria for selection?
There is so much awareness now, so people come to us. They call to ask for help because they now know about Hadassah Healing Foundation and what we stand for. Apart from that, our partners are also on the lookout for people in need of our help. When they come, we interview them; we have a form, which they fill. Then, we do our own checks before we go ahead to help.
Can you recount one very touching story that you have heard from any of these people?
It depends on how you see it. For someone that gained admission into higher institution and can't afford the school fees because the uncle seized the inheritance that the father left for her, would you say it is not touching? Or, a woman that is married but the husband cannot fend for her needs; hence she and her children can't even feed; is that not touching?
Most of the cases we identify with are not just because we want the world to know that we are doing something. They are all cases that are pathetic at that particular point in time. How about a woman that has five children and the landlord has thrown out of the house? When these people come to us, God makes us to feel what they are feeling. He also leads and directs us on what to do to help.
Take for instance; when we got to the Philippines, we met a woman with fourteen children and they had nothing. The husband is a truck pusher.
The entire family is engulfed in poverty. All the fourteen children are at home with her. They can't even feed; neither can they go to school.
So, they are all at home with her. Is that not pathetic enough? With all fourteen children not going to school, you can imagine what will become of that generation. What we did was to give out some money to help the family. Now, six out of the fourteen children are in school. We also made a commitment to give further assistance and we trust God to help us fulfill it. If that is the only reason why God sent us to the Philippines, we are okay and will fulfill that mandate. I am very happy and contented with doing it.
You know, what we call peanut is like one million to some people. I can tell you that some of these women, all they need is just N50, 000. How much is that to me? But do you know that this same amount will not only turn her destiny around, but also that of her entire family.
Let me give you another example. In Hadassah Foundation, one of the things we do is that we identify ladies that have just finished secondary school and are waiting for admission into tertiary institution. At this time they are very vulnerable and we believe that instead allowing them fall prey to the whims and caprices of those irresponsible men out there who go after such girls that are from poverty-ridden homes, we should cater for their basic needs. Last year we identified five of such girls; same with this year. To these young girls, we give a monthly stipend of N5, 000 for their upkeep.
In Hadassah Healing Foundation, we have eight categories of award. Could you believe that for one of these girls, just because she is from a deeply indigent home, her entire family has to subsist on that meager amount? The parents cannot take care of themselves, not to take of the children. This girl has siblings, so she fends for her entire family with that N5,000. Is that not touching? Our intention was to reach out to a young girl that has just finished secondary school and is awaiting admission. But here she goes, giving to others because she knows that her destiny is not just for herself. Her siblings' destinies are tied to hers. So the N5, 000 that we feel is nothing is what the entire family feds on for months.
So, how do you finance all these projects?
Well, it's from you and me.  We don't have any government support. I can say that with all boldness and maybe one or two organizations. Theirs is not even a constant thing; it comes once in a while. So, most times, the funds come from me, the partners and friends. We have people we call Friends of Hadassah Healing Foundation.
And for how long have you been doing this?
The Foundation clocked six years on the 1st of October.
What is your driving force?
The people, whose lives are being touched and transformed. We have had women whose homes were already torn apart coming back together. I get very thrilled seeing people's lives changed for good. My biological children are still very young but I can tell you that I have spiritual children in the university and everywhere. That is enough motivation for me. Seeing a woman who did not have a roof over her head now being settled; seeing a woman who had been idle, tying wrapper around her chest all over the house and fighting with neighbours in the compound now having something to do, and putting smiles on the faces of people; that is enough motivation for me.
What do you regard as the most wonderful thing that has ever happened to you?
The fact that the Holy Spirit dwells in me and can use me. There are a million and one people available; why didn't he choose someone else for this assignment? It's amazing that God can choose me. Who am I? Yet, He is using me, an ordinary woman, to do extra ordinary things.
What are some of those challenges you face doing this work?
Ah! Great challenge! However, I don't celebrate challenges. I celebrate victory and achievements. I have so much bubbling on the inside of me. The greatest challenge is that, if we had so much, we would have been able to reach out to lots and lots of women. There are lots of projects and initiatives that we can't set out to do now just because our hands are a bit tied. Again, Hadassah is not just an NGO, it is 100 percent faith-based. So, the devil comes big time against us. It's a battle between the kingdoms of God and that of the devil but we already know who takes victory at the end of the day. But before we get to that stage, we have to climb a lot of mountains; a lot of valleys have to be filled.
Do you have time to unwind at all or is it all work and no play?
It's hard! I try to but it's hard! For now, the Foundation is just growing and maybe it's a weakness on my path but the truth is that I am a lover of excellence. Anywhere excellence is missing, you can't find me there. However, while at the camp to prepare for this program, the Lord ministered to me and I came to the resolve that henceforth, I really have to shut down some areas. One thing God has helped me to do is to groom people and in another one year, I will be able to hand over a couple of things to them.
So, how do you balance your roles as a wife, mother, administrator and minister?
Well! Anytime I'm home, I make sure I play with my kids. We share a lot of things together. But somehow, they have also come to understand that Mummy will not always be there. Whenever they are having exams, I shut down, no matter what. If it means not coming to church when it is time for their revision, I do that with them. No matter how tired I am, I still help with their home works. So, at the end of the day, it still comes back to me. I know that their foundation is very key, so I am not taking that for granted at all.
How do you cope with your husband?
If I may shock you, my husband is on a one week spiritual retreat now. I don't have a problem with my husband because he understands. But what I do again is to make out time to specially take care of him and pamper him, especially when I return from a journey that took me away from home for a while.
Do you have time to cook?
Oh! I love cooking and I don't like people cooking for my husband, even though he feels I'm taking up too much. What I do is that I drop my jacket on the couch and head straight to kitchen when I return from work. This is actually an issue in my home. But when I start preparing for conferences, I shut down and I have a cook that comes around to help. But when I am not doing anything, I do the cooking myself and I serve him by myself.
Female pastors are pastor's wives nowadays are seen to be flashy dressers. Are you?
I am not an adventurous dresser. I dress simple. I don't wear too much make-up, when I have to wear it; that much my make-up artist knows. Let me say, I'm old school. For me, being stylish is wearing things that make me comfortable. You can't find me wear minis, anything too tight, be it skirt or trousers. You can't find me wear anything revealing or anything that will send wrong signals to the world. I am a decent dresser, yet classy
How easy is it being in the leadership position in your place of work and also as a minister?
I've been in leadership position in my place of work as far back as 2000 or even earlier. At some point in my organization, I had the largest number of subordinates. It is not issue for me. I tell people, before you lead others; you have to first lead yourself. You lead by example. I can't remember calling a meeting and find me come late for that meeting.
It's not possible. If I'm going to be late, it has to be extremely important and I'll not just stroll in and just say I'm the leader and so I can be late. I'm a servant leader. If I'm going to be late for meeting, I'll call the next person to me and give him or her reasons why I will come late and make her see reasons why it has to happen. By so doing, I'm letting them know that next time, they will not just choose to come late just for the sake of it. Where people get leadership wrong is when they want to be 'leader' by the word.
If all of you in a group are expected to do something, the leader should be the first to do whatever they ought to do. When people see that, consciously or unconsciously, they begin to do that too. I do some dirty things in my office that makes my subordinates wonder the kind of person I am. Part of what I do is to manage our estate and expatriates. I do periodic checks and if I find that they've not done something that ought to have been done, I do it. I go as far as laying the bed.
I show stewards how to do things right. Because this guy sees that his bosses' boss has come so low as to do things they may term ordinary, he will always want to do things the right way too. Also, you don't talk to your subordinates as if they are nit human beings. However, there should be a disciplining method in place. You can't be too strict or laid back. When it's time to be strict, please be and when it's time to be laid back, do it. But there has to be a balance. Above all, leadership by example works.