GLAMOUR, CREATIVITY @ NOBLE 2012 SPRING/SUMMER COLLECTION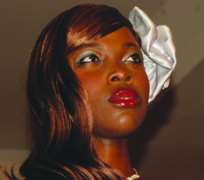 Hair, they say, is the beauty of every woman. This was the scenario at this year's Noble Hair Show event, which took place at the Banquet Hall of the Civic Centre, Victoria Island, Lagos. It was an exhibition of glamour, creativity and style as different hairstyles were showcased by talented models.
A delightful evening, as the country's lovliest fashion models rock the runway in the Noble Spring/Summer Collection 2012. The models paraded the new Braids look, Noble Synthetic Hair and Black Pearl to the admiration of esteemed glamourous guests who witnessed the occasion. Mood Couture provided dresses for the Noble Synthetic Hair display, while Princess Aisha dressed the models for the Black Pearl showcase segment.
The event, which started with cocktail and red carpet, provided a platform to introduce a notable Nollywood actress, Ini Edo as the new brand ambassador of Noble Hair. Ini, who was a fan of Noble before she clinched the deal described Noble as the most sort after for women who want to look their best.
Rebecca Fashion Ltd, makers of Noble Hair, are poised to make African women look beautiful. The evening indeed witnessed the new fashion in hair attachment.
In his opening remarks, the Deputy General Manager of Rebecca Fashion Ltd, Bill Cheng assured that the company will continue to satisfy its customers with the best brand. In her remarks at the launch of Noble Braids, Ms Amy, the Chief Executive Officer of Rebecca, China Headquarters, traced the establishment of the brand in Nigeria from 2007, stating that since then Noble had been accepted by more ladies.
The programme, which was successfully planned and coordinated by Bola Akinboade of Chanterelle Concepts, could also be described as an evening of fun and entertainment as there were performances by Essence, Explicit Dancers and Goldie.
Sleeky Silverbird Television presenter, Yvonne Ekwere anchored the ceremony, while the National Anthem was presented by Segun Obe.
Notable guests at the event included Kenny Saint Brown, Dr. Matilda Kerry, ex-Most Beautiful Girl in Nigeria (MBGN), Sylvia Udegu, an actress and a beautician, Toyin Alakiu. Others, who graced the occasion, were Bunmi Ayuba of Tailor Made, Yinka Fashola of Moofa Designs and Eni Balogun, CEO Lise Makeover, among others.