Analysis: Alleged Plot Deals New Blow To Iran Nuclear Diplomacy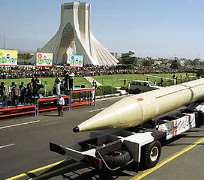 A diplomatic storm over U.S. accusations that Iran plotted to kill the Saudi ambassador in Washington may throttle any slim chance of diplomacy resolving the long-running dispute over Tehran's nuclear program.
"I wouldn't say that it is dead forever," said Gala Riani, senior Middle East analyst at London-based IHS Global Insight. "But it is difficult to see it being restarted any time soon."
Among other factors, outrage among American voters may make it hard for U.S. President Barack Obama to appear to be offering deals to Tehran while seeking re-election a year from now.
That is bad news for those holding out hope for a negotiated end to arguments over the Islamic state's atomic ambitions - which Western powers and Israel say are aimed at building a bomb - and avert any threat of wider conflict in the volatile region.
Tehran, which denies seeking nuclear weapons, dismissed the allegations as "mischievous," leaving observers to debate what lies behind them and who, within Iran's fractious elite or among their enemies, might benefit from such a plot, or its exposure.
Either way, the row that has erupted in the wake of the U.S. accusations may frustrate those seeking a rapid deal to prevent the risk of diplomatic tension turning to armed conflict.
Nuclear experts say time is of the essence in trying to defuse the issue as Iran is getting closer to being able to build nuclear weapons and the United States and Israel have not ruled out military action to stop that from happening.
A push by the six world powers involved in talks -- the United States, China, Russia, France, Britain and Germany -- to seek a diplomatic outcome with Iran has been deadlocked since a fruitless meeting in Istanbul in January.
Iran, a major oil producer, now says it is prepared to resume the talks and President Mahmoud Ahmadinejad last month sought to revive a deal over nuclear fuel that was intended to let Tehran operate a research reactor and help build trust between the two sides. That proposal fell apart in 2009.
Russia has advocated a phased plan in which Tehran would address concerns that it may be seeking atomic arms, and be rewarded with an easing of sanctions.
OBAMA RE-ELECTION BATTLE
But the prospects for any revival of nuclear dialogue appeared to suffer a serious new setback with Tuesday's allegations by the United States that Iran had backed a plan to assassinate Saudi ambassador Adel al-Jubeir.
"It is obvious that it is going to have a very negative impact on all the efforts to return to negotiations or to diplomacy," said Oliver Thraenert, a senior fellow of the German Institute for International and Security Affairs.
Obama, who sought to ease 30 years of enmity with Iran after he came to power in early 2009, would not want to "show any weakness" regarding the Islamic Republic ahead of his re-election bid next year, Thraenert said.
The Democratic White House has pushed back hard at a Republican charge that Obama has shown a lack of resolve abroad.
"The assassination plot will almost surely make it impossible for Obama to take any diplomatic initiative on the nuclear front," said Mark Fitzpatrick, a director of the International Institute for Strategic Studies think-tank.
Analysts are unsure how far any plot may have had official blessing in Tehran, and if so which of various factions within the establishment might be involved and to what end. Some observers also question whether there may be ulterior motives on the part of U.S. or other officials in making the allegations.
SANCTIONS IN PROSPECT
In any case, Iran now faces a possible tightening of Western sanctions, in addition to four rounds of U.N. measures and separate U.S. and European punitive steps over its nuclear program in the last five years.
Britain said it was consulting with the United States and other countries about imposing new sanctions. Washington and Saudi Arabia are discussing taking the matter of the alleged plot to the U.N. Security Council.
The latest turn for the worse in relations comes shortly after some U.S.-based think tanks urged the Obama administration to test Ahmadinejad's offer in September to halt the enrichment of uranium to levels where 20 percent of it was in the form of the fissile isotope. In return, he wanted foreign reactor fuel.
Iran's move in early 2010 to refine uranium up to 20-percent purity alarmed the West as it took Tehran closer to 90-percent, bomb-grade material. It had previously only enriched to the 3.5 percent level usually required to fuel power plants.
Iran says it was forced to enrich to 20 percent to make fuel for a Tehran reactor which makes isotopes to treat cancer patients, after a tentative accord for an exchange collapsed.
A U.S. State Department spokeswoman last month dismissed Ahmadinejad's proposal as an apparent "diversion from the real issues," in comments highlighting deep mistrust of Tehran's motives in making the proposal.
"It would be difficult for the Americans to be seen essentially as extending a hand to the Iranians," IHS's Riani said.
Prominent proliferation expert Graham Allison of Harvard University's Belfer Center for Science and International Affairs, echoing the views of others, last week said Obama should seize on the proposal from the Iranian president.
"A stockpile of uranium enriched to 20 percent shrinks the potential timeline for breaking out to bomb material from months to weeks," Allison wrote in the Washington Post on Friday. "President Obama should act now to test Ahmadinejad's word."
But the United States is unlikely to be in any mood for that after U.S. authorities said they had broken up the scheme by two men linked to Iran's security agencies to kill the Saudi envoy.
Fitzpatrick, a former senior U.S. State Department official, said: "Now, the impulse will be strongly focused on teaching Iran a lesson, not exploring possibilities for compromise."
REUTERS