I inherited stupidity from my grandfather – Mr. Ibu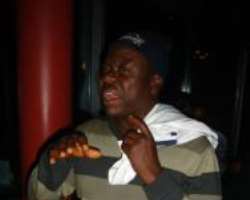 John Okafor, popularly known as Mr. Ibu, is a multi-talented 'idiot.' An actor, a comedian, singer, humorous master of ceremony, a Federation of International... Football Association (FIFA) licensed agent and a playwright. In this interview with OKONKWO MIRIAM CHIDIMMA, he said that he inherited 'stupidity' from his grandfather. Excerpts:
Who are you?
My name is John Okafor, popularly known as Mr. Ibu. I'm from Umunekwu Village in Eziokwe, Kanu West Local Government Area of Enugu State. I'm from the family of eight. Some we have lost. We are remaining five now. My primary education was in my place. And my secondary education was scattered all over Delta State. And then for my higher education, I went to the Institute of Management Technology (IMT), Enugu. I read Mass Communication.
How did the name Mr. Ibu come up?
Heah, Chineke.... Ibu! (laughs). Ibu is my grandfather's name, I took after him. To me, he is a better comedian. You need to see him makes jokes with people. You need to watch him, you need to stay with him for five minutes and your lungs will be stiff. There are some situations he will find himself like where two boys are fighting and he will just walk in to them and ask what the problem is. Okay, you go let me carry the case. And he will look for either a bottle or a nail cut himself. Ha, nna, which kind nonsense be this? And I will ask him: daddy why? How did you injure yourself with this? And you will see blood coming out. It is amazing, nobody can try that. It is like the life of Jesus Christ. Sometimes, if he gets to where a couple are fighting, a husband and wife, even if the wife is beating the husband and even crying, he will tell them to wait for him to adjudicate. He will get a big branch of palm tree, chase a goat, chase a fowl and before you know it, the two will start laughing. Sometimes, I will follow him and I will be tired of him and I will leave him to go home to sleep. So I have discovered that this man is just a material wasting. So before I knew it, the man's attitude hypnotised me. I became stupid. It was the stupidity in him that he impacted into me and he has everything that can make you laugh. And funny enough, because of the materials he has that he impacted into me, sometimes people will begin to read meanings into your movement, your face, your eyes, wherever they look at you even without doing anything they will laugh. That's just the trouble I am into today. I can't walk on the street. I can't. So if I don't have anything doing apart from my profession, I will stay indoors to enjoy myself. I am sympathetic person. I am so emotional. Nobody suffers around me. Unless I have not come into the person's issue because I suffered so much.
How did you start with Nollywood?
The Nollywood started on a platter of gold. I started with the industry in 1978 with a commercial in a soap opera. And the head of the commercial department kept sponsoring us. There was this programme that I used to watch on television then. It was a very prominent programme. I was like: when will I be the person people will be watching on the television? A lot people were going into the acting industry at the time. Then, it happened in 1978, there was a live programme on the television and I was called to come and do one thing. I was shaking. This was somebody that was obviously suffering from stage fright. But after that very day, whenever I am standing in front of a camera, not even my mother will change my act.
You feature in more of comedy movies. Can you act in a serious movie?
Yes, I do. I have done some number of serious jobs. I have done Civil War. It is a comedy but my part was a serious one. Mouth to Mouth is a comedy but I played a serious role. I can do it. I'm a versatile actor.
How is your family?
They are fine. I have three boys and three girls. I think I'm done. This is my place. If you go to Enugu, you will see a place like this because I don't like sleeping in hotels. That's why I have my have my own home here because I 'm busy in Lagos and my major connections are in Lagos. I don't want to go deep into the family issue now but I am single.
But how come you are single but you are already have six children?
I don't want to go into that.
Have you attended any serious occasion and people don't take you serious?
Of course yes (laughs). See I 'm tactical. I'm a very tactical person. But it connects with the emotions I'm talking about here because if you don't have this philosophy of human mind, there will be no way you will act in the public and people will take you serious. Let's leave comedy out of it, I 'm very tactical. I go to places, I go to nations, I travel out. If the same mumu hypnotises me when I'm outside, what do you think? I know what I am doing. I'm preparing for something heavy and I don't want to let it out until I finish. I'm enjoying the secret until I spread it out. That's why I don't want to talk to any press at all. But then when you called, I spoke to myself. First of all, you looked for my number and you got it and you have the courage to call me. And the biggest thing is that you agreed to come to my house from outside the country (laughs). I said let me give the chance to listen to you. I can handle any situation, my dear, very perfectly. For instance, I relate with government functionaries. I'm just coming from Abia State. I stayed in the office with the state Chief Executive, Governor T.A. Orji. It was wonderful occasion. I enjoyed his presence. I do learn a lot if I go to occasions like that. People take me serious when I want them to take me serious. But when time is set for joke, I crack jokes.
What does your normal life outside comedy look like?
Outside my profession, I live my normal life. I stay at home with my cousins, chat with them and sleep. I don't drink, I don't smoke. I don't keep friends that smoke. And I don't enjoy going to where people are smoking because smoke touches me. I enjoy listening to music and watching movies.
You normally act along side Chinedu Ikedieze and Osita Iheme (Aki and Pawpaw). What's the attraction?
I like working with people who are creative because creativity in act. Those boys they have it. If you are not creative, you cannot mix up with people that will interpret the movies that are involved. People can be talking about your attitude outside. If you don't have it in acting, you can't mix up. So those boys they have all these things. They are educated despite their height. Kirikiri stars (laughs).
How about your music life?
The Part 3 is ready but not yet moving on because there are some conflicts in the entertainment industry in Nigeria right now. I take my time before I release any music and I 'm very comfortable with it.
Does it mean that you are talented in music?
Well, my aim of going into the music is because I discovered comedy. So whatever I'm doing, there must be a comedy part of it. If you watch, you will see it. It was my friend that had the story because he was a victim of something. He doesn't know how to 'chance' a girl. All he does is to call the girl and then buy things for her. And he now started expressing his feeling to the girl. Then, the second one, he looked into the situation and fought back against the girl because both of them agreed to live together. And the Part 3, he revisited the case and his living a careless life and all that.
What are the conflicts in the entertainment industry in Nigeria?
That's why I'm very scared of you people. Very small thing, una don gum am. Yes, there is conflict but we are trying to restructure the industry to suit all the stakeholders. It is very unfortunate that when this industry started, a lot of people did not expect things to happen but it started happening. The first people that invested into this movie industry are people who believed that tomorrow is great, sponsored something out of nothing and movie industry is something to talk about today. Then, we have gotten the name in Africa, which we now called Nollywood. But I perceived an attitude of greed. This greed is from those people that I feel are supposed to be making peace in the industry. Instead, this greed extended into their lives. They are the same people that caused violence. What is the violence? We pirate ourselves! This violence I'm talking about is the major virus that is killing the industry. If you know that you have an idea that will make the industry to grow, don't keep it, say it out, share it with people so that we will begin to opinionate on in and better the industry. The Censors Board came out with brand ideas, which I feel is okay to embrace, the marketers themselves failed to take it and the producers in the industry too, thinking that the government is going to hijack their goods. It is just a matter of communication. The idea is good. If this brand is consummated, it will become a legitimate marketer that is legal in this business. Then, because you are legal in your business, you have no skeleton in your cupboard. But if you are not legal in your business then you are stealing your own thing. So, this is the conflict. But the conflict can be amended if only the whole house, the whole stakeholders come together as we did before. Let us decide again and include this bomb into it. If you are not capable of marketing, come down, another person will go up. If you are not capable of producing, come down, another person will go up. If you are not capable of directing, come down. Or you go and learn or you go to workshops. The Censors Board is not trying to destroy the industry but to rebuild the industry. It is bringing some laws. It is the government. It can as well ask you to stop. So, since the laws are there and that is our main constituency, we have to call it our own. If we believe it is our house, then we should be able to restructure our house properly and keep it the way it is supposed to be. But if you look at it that this person is here, another person is there to overlap, to overtake and to collect what he or she is not supposed to be collecting, that is not the issue. The issue is that this idea will come, we mix it together and do something better. That is why we are growing. The industry is not ripe yet. It is still growing. The Hollywood stars are there already. They make movies in millions and billions of copies and sell. But we can't even sell up to 200,000 here in Nigeria. I brought up an idea and said: do you know that we can sell one million copies of our products in this country? It will be easy for us to make it if only we follow this information that I am about to say now. The information are not far fetched. We have 36 states and we have capitals in it. If only we have product distribution of these works, have distributors in each capital of the states, leave 2,000 of our jobs produced there instead of only Onitsha, Aba and Lagos. They will go and buy it, they reproduce it in their area, use biro to write our names and sell for the same amount. Today our movies are being sold on the street like pure water or gala. People hire buses to go round the street practically begging, bikonu, as if we are in a bazaar. Now the major problem is airing our movies on the television without dividends to the actors. Now the media houses are showing our movies on a platter of gold. Days are coming when we are going to discuss it with them because even they know that it is not right. Some people don't buy movies again. They are waiting for the one that will be shown on the television. Somebody can now call me on the telephone and say, so una never bring another film? I dey watch movie magic I no dey see una again. So you will go to the television and wait for new movies to come out and to be shown there and you clap, you keep your money. Now, MTN sponsored them, gave them money for Nigerian movies to be showing on television. We are still losing. It is not helping the industry. It is piracy of the highest order.
Who are these stakeholders?
The stakeholders are in different departments in the movie making industry. This is talking about the directors, producers, executive producers, cinematographers, scriptwriters, marketers, actors creative acts and the government. No government is helping anymore. The film corporations are not helping matters at all. Are we not finished? We are gone! They can never ask questions. They can never come to our aid. The film corporations, it is their fault too. I blame them because they are just there. They are not assisting the industry. They never sponsor a movie. They never do any employment in the industry and say this movie is being sponsored by film corporations in Nigeria. They have never done that.
Why are most comedians going into music? Is it more profitable?
The music and comedy industry generally is lucrative. I enjoy it. Comedians are big boys, I tell you. They go places. They are not rich but they are not hungry. They are comfortable, ride any car they want to ride. It is the same in the movie industry. But generally, comedy is kpumnkpum (highest). I enjoy it too because I 'm a comedian.
So, how are you enjoying your bachelor life?
I am very fine. I'm cool. But don't go there because you are trying to sneak over.
What was your first movie?
Holy Stone. It was an Ibo flick. It was shot and produced by Solomon Eze (Mike ori ihe dinma) in 1994. Then followed by other ones. But the one that actually brought me into limelight was Agony. I acted an Imbecile.
What was your first experience on stage like?
It was very difficult. It was at a wedding reception. Very hard. They were shouting, look at this man. Onye pkotara onye nke a ebe a (who brought this kind of man here)? But I wasn't discouraged. Because the more you go up, the more you get experiences. The stable and the more you get, the more you harden your heart.
How would you rate other comedians and who would you say is the best?
We don't have the best in it. What we have is the reigning name. But there are creative comedians. In comedy, all of them are good and it differs. Every one in his department. But Nkem Owoh (Osuofia) started it all before all of us now delved into it. And I tell you, it changed my life because it makes me meet people I never expected to meet. It makes me meet so many situations. The industry is good but people are praying for our downfall. But it will not work. We will continue to enjoy our dividend. Most of them have built the structures already there and people are coming. Those of them who are good are still making it and those who are not good are going out. Because when you come in, you see the trend, you see the challenges, the competition.
Do you write scripts?
Yes, I do. I write and I plot stories.
Have you had any bitter experience?
Yes. But I will only tell you the areas I encountered those things. During shooting, we have so many bitter experiences, especially when somebody is organising a production and there is no money. Somebody will take us into location and come back to town and leave us there. He will never come back. We wouldn't see food to eat, no water to drink. Before you walk out from that location to where you can see okada, it will be difficult. The location bus will be there too but no fuel. The most painful was the one I encountered in Asaba where I faked deaf and dumb. I was begging for money. All of a sudden people were giving like N20, N50, N100 and somebody came and gave me N1,000. I was forced to talk, thank you very much sir. Not even minding I was deaf and dumb. And the director said, aah aah so you talk? I said, abey, na miracle (laugh). The man was angry and we were acting inside the market place. And the whole crowd rushed me and was beating and kicking me like a cow. Okey Bakkasi tried to stop them. Not until I raised my head they now shouted and said ha, they are shooting? There is this boy that gave me at the centre back, I dislocated my shoulder then. I will never, never forget that day. Another was in Liberia. We were on the stage. And all of a sudden after I finished my bit and I was coming down from the stage, people in the front came to the back of the stage when 2face was singing that I should just sit down there even if you are not singing. As we were driving, out they rushed us with stones and said they should bring me back. They damaged the windscreen of so many cars. I said ha, so this is Liberia? But they didn't do it to harm me. They love me. Liberians love me so much there is no doubt. They make music with my name on the street. So these people that were shouting to bring me back to the stage were actually not satisfied with my act yet.
Who are the people you look up to?
A lot. My sweet mother. Do you know that my mother can go sick if she doesn't see me in two weeks? Each time I travel abroad and come back I meet her on the sick bed all because I'm not there. But immediately I step in, she smiles and gets up. It is like a magic. My mother loves me so much and she is very strong.
Apart from acting, what else do you do to earn a living?
I'm a football agent. I work as a FIFA licenced agent because I like the work. At a time I started working on my own. And by God's grace my own personal licence will be coming out soon