Ex Governor Goje, Deputy paid themselves N300 Million Pension while still in office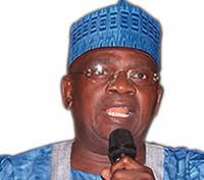 advertisement
Former Gombe State Governor, Danjuma Goje, and his deputy, John Yoriyo, pocketed a whooping N300 Million as ' pension' in 2007, while they were still in office.
The gross illegality is still a matter of litigation between the two men and the Revenue Mobilization, Allocation and Fiscal Commission (RMAFC) at a High Court in Abuja.
When the first stanza of their administration elapsed, contrary to existing federal statutes, both men paid themselves N200, 872, 505 and N 100, 025, 872, respectively.
Goje is on the run from operatives of the Economic and Financial Crime Commission (EFCC), over alleged embezzlement and misappropriation of N53 Billion of Gombe State's cash.
After the arrest of Ex Governors Gbenga Daniel, (Ogun); Abedayo Alao-Akal, (Oyo) and Aliyu Doma, (Nassarawa), last Thursday, the EFCC stormed the residence of Goje, but before the got there he had skipped.
Daniel, Akala and Doma, who spent the weekend in EFCC's jail, and set for arraignment this week, were refused bail on personal recognition, due to the flight risk factor.
Pointblanknews.com learnt that in 2007, due to the illegality of the payment of pension to themselves, the RMAFC, wrote both men intimating them of the need to return the cash to state coffers, but they refused.
 
In 2008, Goje hurriedly put together the Gombe State pensions Law that gave legal teeth, retroactively to the illegal payment of pension to him, his deputy, and past Governors.  But the commission contended that Goje could not give legal backing to an illegality via a state statute that looked like an afterthought.
Consequently, Goje and his deputy went to court to claim damages for defamation of character, and asked for N750, 000 as damages from the Commission, and also prayed the court to declare as illegal the RMAFC's letter directing the duo to refund the cash.
The duo wanted the court to admit a copy of the State's pension law. They claimed that their benefits were in accordance with the 2008 law, even though they collected the money in 2007. They asked the court to declare that the law was competent and the benefits they received under it were proper.
However, the court did not admit the document because it was not in gazette.