TROUBLE IN PARADISE.-PASTOR SUNDAY ADELAJA'S UKRAINE DILEMMA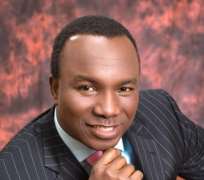 He oversees one of the largest congregations in that part of the world; we hear that he pastors a flock of over a hundred thousand at his Embassy of the Blessed Kingdom of God For All Nations in Kiev, Ukraine. His call is to that former iron curtain enclave-Ukraine that used to be part of USSR, until the whole republic broke up and their came out Ukraine and several other countries, but like it is said ''Old habits die hard''. Though it is another country on its own now, the old way of viewing everything with so much suspicion is still very prevalent. And that seems to be the problem the Man of God, Pastor Sunday Adelaja is battling with right now. He has been under investigation now for alleged fraud for the past 3 years, just because a member of his church was involved in a business that has now gone down. Because of his perceived larger than life influence, he is now in a battle for his existence with the state, to the extent that his movement, the last 3 years has been restricted.
>

OVERVIEW
Sunday Adelaja left his native Nigeria from a forty-hut village in 1986 to what was formerly known as the Soviet Union, where he was recruited to be sent back to Africa as a socialist revolutionary. But instead Sunday Adelaja soon rose to become the biggest Evangelical influence in all of Europe.