ABOUT RUKKY SANDA'S INCURABLE ECZEMA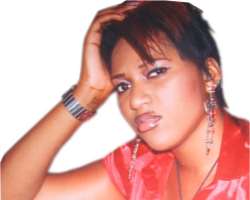 Rukky is one of the new faces in Nollywood today who is not doing badly at all. Her ability to interpret script has earned her a lot of respect from her colleagues and, of course, her beautiful look is another centre of attraction which makes men crave for her attention.
You may need to know that behind those beautiful curves and articulate disposition is an offensive skin disease called Eczema which has taken over the beautiful girl's skin. At an award night held in Lagos recently where the epitome of beauty was a guest, informed sources informed this office that Rukky's regalia was outstanding and turned so many heads.
The regalia, we were told, slightly left a portion of her back open and it's so shocking to discover that the eczema was all over her back. "It's not just the back o; the skin spoiler is all over her body even face too. You wouldn't have noticed this because of the money she spends to clean herself up on a regular basis that's why it's not showing and she's always paying half of what she gets from the movies and her many 'aristo runs' to dermatologist." A close source informed.
Meanwhile, all effort to reach the screen idol to comment on this proved abortive.