FG NEEDS TO TURN STATES TO INDUSTRIAL CENTRES - NECA DG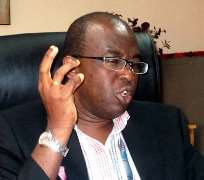 Segun Oshinowo
The Director-General, Nigerian Employers Consultative Association, Mr. Segun Oshinowo, speaks with IME UMOREN on vision 2020 and the rate of unemployment in the country
Unemployment appears to be on the increase in the country, how can this trend be addressed as Nigeria turns 51?
We have a youthful population, which is growing by the day on account of our population growth rate which is 2.8 per cent. There is the need to promote pro job macro-economic policies as well as diversify the economy away from oil and gas. Nigeria should begin to look for other sources of income, apart from and gas, that will help create job opportunities for the youths. It is also important that Nigeria embraces decentralisation of her political structure as well as accept resource control. There is also the need to turn the federating states to centres of production and contribution to national purse as against the current sharing culture. This will enhance the states' capacity to create wealth also.
Countries in the world including the United States are developing strategies to create jobs. Why do you think Nigeria is lacking in this regard?
The issue is the Nigerian approach. Surprisingly, the Nigerian government has articulated plans for job creation, but unfortunately they are not yielding results. This is so because Nigeria is structurally deficient in data collection and it is difficult to address a number of issues without adequate data. In the United States, the department of labour is in charge of socio-economic issues as well on employment. Whatever number President Obama says in public is from the department of labour but we do not have that here in Nigeria. Of course, it is not new that people have lost their jobs and we have high rates of unemployment but there is nothing to determine how much job was lost and how it will affect the economy. Nigeria cannot have a proper plan directed at national development without proper data. There is need to have a bureau to take charge of socio-economic issues in the country. My preposition is that this be taken as national imperative and given a statutory outlook where it will be mandatory for stakeholders in the environment to provide certain information especially on employment which includes the different professions and levels. We need to conduct survey on a regular basis, to support national development knowing that the information is key and will be used to analyse and develop plans for the nation's development. There is also need to encourage students in the higher institution to take up courses that will be needed for the development of the country. It should be premised on our macro-economic fundamentals for it to be fruitful and sustainable.
Also, it must be broad in scope to include all tiers of government for the initiative to be impactful given the high incidence of unemployment in both the urban and rural centres.
Further more, our governments should show commitment to good governance, which if truthfully and vigorously pursued will create employment opportunities.
Does the Nigerian private sector have the capacity to play significant role in addressing the high unemployment rate in the country?
It is not the primary responsibility of the private sector to create jobs. This is more or less a derived responsibility. The private sector creates wealth and its efficiency in doing this depends on the state of the operating environment. If we get it right by creating an enabling environment, the private sector becomes efficient as an engine of growth and jobs are then created in that process.
How can NECA help in addressing the high rate of unemployment?
NECA is an organised business organisation and its role is to promote an enabling environment for individuals to create wealth and NECA also has the role of advocacy.
At the level of the BMOs like NECA, we have embarked on pilot schemes in the areas of technical and vocational education and entrepreneurship development programme for the purpose of developing a successful model, which government could adopt.
Our laws are quite clear and comprehensive as to the rights of workers. What is lacking is the enforcement capacity of the government. I call on the government to set up a body to deal with the socio-economic issues in the country.
We are currently working with some training schools to improve the environment of learning in our technical colleges as well as update their infrastructure. This will help create a conducive environment for learning.
This will also afford the governments the opportunity to compare the training schools we are and that of their states and then make the right steps to creating a positive and enabling environment
Assessing fund has been the bane of SME growth and economic development in the country. How can this challenge be addressed?
This is not true of Nigeria. We only pay lip service to it. Unfortunately, this will remain for a long time until we create an economy where the survival of government will depend on income that will come from taxes paid by SMEs
Government should create huge stimulus package for this group and manage it by involving representative bodies of the SMEs. It will extremely be challenging for SMEs to compete for credit under current banking regime and terms.
Nigeria hopes to be among the G20 economies of the world in 2020. Is this an achievable target?
We have heard this before. What became of vision 2010? We are quite good at crafting wonderful vision and plans and not too bothered about implementation. If 75 per cent of our revenue is going into recurrent expenditure, where will the resources to implement Vision 2020 come from? Our education system has fallen apart, our industrial relations system is in the cesspit with strikes as the order of the day. Reforms are required in almost all facets of our national life. Is this therefore the context that will deliver on this vision? I am sorry to say: this is simply another journey into the abyss.
If the government look critically at Vision 2020, they will see that there are skills and competences which will be needed to achieve it.
With a proper data system in the country, the goal will be aligned with the necessary skills and competence and there is need to boost such skills. Then, it will be done to help achieve the goal.
There is need to also have an enabling environment for businesses to grow and thereby create job opportunities.