The Godfathers Of Nollywood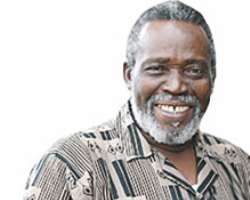 These are veterans who have spent many years in the make-believe industry. They have survived the good, bad and ugly sides of moviedom. In fact, to say that they have seen it all is an understatement.
Apparently, because of their wealth of experience and influence in the industry, the younger artistes and even the aspiring ones look up to them, not only artistically, but because their names can open doors to several opportunities in the corridors of power.
When issues bordering on the state of the industry are to be addressed, these personalities are often consulted for their elderly and professional advice. To cap it all, they stand as pillars of the Nigerian movie industry known as Nollywood.
This week, NollywoodReel presents these notable and influential icons of Nollywood
•Olu Jacobs: He commands so much respect, not only in Nollywood, but in Nigeria as a whole. Uncle Olu, as many prefer to call him, has, for many years, been a source of inspiration to the younger actors and adored by his peers. He is a though-breed professional that has been able to prove his worth in the international movie industry.
He is married to one of the best actresses in Nigeria, Joke Silva.
Olu Jacobs, who has lost count of the movies that he has featured in, has stood the test of time in Nollywood and possesses the qualities of a godfather.
•Pete Edochie: Despite the fact that he is based in the Eastern part of Nigeria, Pete Edochie remains one of the most popular actors in Nigeria. His vast experience and knowledge about the Igbo culture has earned him more Igwe or Chief roles in movies. Because of this, some people are of the opinion that he has been stereotyped. But Pete has repeatedly debunked it, claiming that as an actor, his professional responsibility is to interpret whatever script given to him.
He is a godfather, particularly among the Igbo-speaking filmmakers.
•Justus Esiri: This is another movie icon that has carved a niche for himself in the industry. He can be described as a bundle of talent with a unique way of interpreting roles. He had on several occasions served as a counsellor or adviser to less experienced filmmakers and actors.
He is one of the few that are often contacted when issues affecting the development of Nollywood are to be addressed.
•Eddie Ugbomah: Eddie Ugbomah is a professional actor. One of the experienced actors Nigeria can boast of. Ugbomah, who celebrated his 40 years on stage recently, is a down to earth person. He is proactive and innovative. As far back as the 70s Ugbomah had shot movies in celluloid, setting a pace for the modern Nollywood. His intelligence has earned him the responsibility of playing the role of an adviser in virtually all the guilds in the English sector of Nollywood.
For instance, in the heat of the problem between film marketers and the National Films and Video Censors Board (NFVCB), Ugbomah really played the role of a peacemaker, serving as a middle man between the two parties.
When the Federal Government first made its intention to sell the National Arts-Theatre, known he was also one of the major practitioners that kicked against the move.
•Lere Paimo: Popularly known as Eda Omile Ola, he is a Yoruba thespian with vast experience. Like Pete Edochie in the English sector, Lere Paimo also seems to have been stereotyped, but that has not in anyway hindered him from being a godfather.
An Ibadan-based actor, Eda, as he is fondly called, has spent decades in the industry.
•Peter Fatomilola: He is an Ifa scholar of repute and has made use of his knowledge to become a celebrated movie star. However, his vast knowledge about Ifa may be the reason why he mostly plays the role of an Ifa Priest in movies.
He is one of the most respected elders in the Yoruba movie sector.
•Adebayo Faleti: He has proved his mettle as a fantastic script interpreter over the years. This ageing actor for sometime now, has been playing an advisory role in the affairs of the Association of Nigeria Theatre-Arts Practitioners (ANTP), an umbrella body of all Yoruba thespians in the country.
Faleti is one actor that has distinguished himself with the unique style of delivering his lines. Watching this icon act, one will be convinced that he has experience. He fits in perfectly in movies that tend to promote more of Yoruba culture.
•Kola Oyewo: Apart from being an actor of international repute, Kola Oyewo has contributed tremenduosly to the growth of Theatre-Arts in Nigeria as a Lecturer at the Obafemi Awolowo University, Ile-Ife.
Oyewo is an actor that has no limits. He can conveniently feature in both Yoruba and English movies, but as a man who loves impacting more on people in his immediate constituency, he prefers Yoruba movies, particularly those that concentrate more on culture.
•Sola Fosudo: Sola Fosudo is one of those that started what we today know as Nollywood. Before home videos and movies eventually became the order of the day, he had been one of the veterans doing stage performances.
Consequently, Fosudo, who is a senior lecturer at the Department of Theatre-Arts, Lagos State University, has broken barriers because he is one of the few Yoruba personalities that have acted in many Yoruba and English flicks.
•Prince Jide Kosoko: He is currently the National President of the Association of Nigerian Theatre-Art Practitioners (ANTP). Although he is still very relevant as an actor, he is more involved in the politics of ANTP lately.
Prince Kosoko, one of the early actors in Nigeria, is married to an actress, Henrietta. Without mincing words, he is one of the godfathers in moviedom.
•Adebayo Salami: Otherwise known as Oga Bello, this chubby actor has also contributed his quota to lift the make-believe industry up and has lost count of his movies. He is a godfather as well.