AGN CRISIS CONTINUES AS EXCITE TV CELEBRATES K.O.K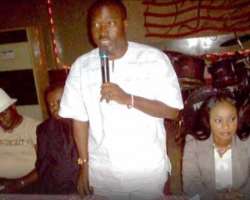 The imbroglio that has been rocking the authority that monitors the activities or affair of the movie industry, Actors' Guild of Nigeria, AGN seems to be reaching its crescendo as some versions of the association have installed Kanoyo O. Kanayo as the interim president.
Ejike Asiegbu, the incumbent president who is having a running battle with co-actor, Kanayo is alleged of embezzlement and its related offences. The tussle for supremacy that may take another dimension as a certain multi-media organization in Lagos called excite TV led by Sola Fajobi celebrated the tall and handsome actor, KOK at White House on Toyin Street, Ikeja this Sunday.
"why we swore in Kanayo as president is because Ejike's tenure has expired two years ago, his reasons for holding on to power is amazing and we cannot continue to be bamboozled any longer.