KISS AND TELL-----MEN ARE DOGS!!!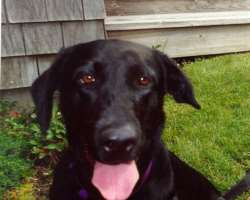 A conversation between two classic naija babes somewhere in Lagos Island. Check it out!
UCHE:(worried), Ngozi why you rushed me off the phone awhile ago, abi we dey quarrel?
NGOZI: Nne, abeg make u no vex, na dat my stupid he-goat(boyfriend). That compound idiot is getting under my skin this days. Anyways, don't worry we are finally here. Tell me better thing jare.
UCHE:(Surprised), Your boyfriend ke!, she exclaimed. Wao! you and this your he-goat sef, i suppose una settled last time, wetin he come do again?
NGOZI:In emotionally ladden voice said, "I don tire for that yeye guy o. Me i no know wetin i fit do again. God forbid, nobi my portion at all." I cannot believe that after all the beggings and promises he made to me just two days ago, i caught him red handed with one stinky, hungry looking, God forsaken slut around that corner, pointing......
UCHE:Laughing hysterially said, "How old are you sef?" Babygirl, you better grow up, na naija we dey so, Eko o of all people. I don tell you many times say men na dogs, but you no wan listen. So....
NGOZI:(Ruffled, cuts in), Wetin be your own sef? Abeg spare me this your unslolicited bullshits. Don't excite my ear drum pls. The other time you told me that your bofriend is a power house. I am still trying to come to grips with that, pondering what kind of stuff that guy has been dumping in your big fat ass, you are here now telling me that men are dogs. Ejoo o, my papa nobi dog. You mean to say i bi dog too, abi u no know say na dog dey born dog.
UCHE:(Smiling), Oh my gosh! girlfriend relaxe now, chill, i don't mean to add to your already hectic day. Just hear me out first(tapping Ngozi on the shoulder), undserstand me make i benefit you. Men are dogs, take it or leave it, but you can turn their lousy doggie ways around and benefit yourself.(Reaching for her cellphone), Take it, call that bobo up right now and kick his ugly black ass. It won't hurt to give him a little fine.That latest Prada bag can do.
NGOZI:(Making face, wide eyed), "Babygirl, are u sure this is really a good idea?"
UCHE:Oh what a bitch! Pls don't look at me like that, just trust me on this, it's a bang. Me i no dey for yawaa, na so i dey collect from my late dad in those days whenever i caught him cheating on my mother. Sista, abeg shine ur eyes.
NGOZI:(Puzzled,running her eyes up & down), "Wait a minute, wait a minute, come to think of it, you really have a point here". "YOU ARE A MORON BITCH AND YOUR DAD IS CHEIF OF ALL DOGS".
By MAhabone-The grandmaster EXCLUSIVE for http://nollywoodgists.com