The Top Movie Directors In Nigeria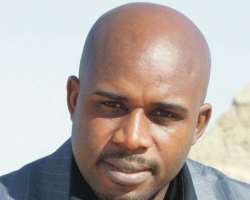 The Nigerian movie industry (Nollywood) was recently adjudged one of the biggest in the world, receiving accolades from pundits all over the world. Although there are still lapses, the industry has since inception grown tremendously and its success will be incomplete without giving due credit to the movie directors most of whom are always behind the scene.
In any movie location, the director works almost three times harder than any other members of the production crew. This includes the actors and actresses. In most cases, they spend long time working on the artistic ability of the actors before achieving the 'perfect' characters viewers watch in the comfort of their homes. No doubt, directors have contributed to the growth of Nollywood. This week, NollywoodReel writes about about the top movie directors in Nigeria. Enjoy it.
Tunde Kelani: This is a man whose sheer brilliance in film directing cannot be underestimated. TK, as this erudite director is fondly called, is not a man of many words, but his works speak for him, anytime, any day. The multiple award-winning director has carved a niche for himself in the movie industry, as his works can always be distinguished from the league of others. He is an extraordinary talented cinematographer. Kelani, apart from his in-born talent, also acquired his skills abroad and he is unarguably the best in Nigeria at the moment.
Some of his blockbuster movies include: Saworo-Ide, Agogo Eewo, Abeni, Thunderbolt, The Narrow Path. etc.
Tade Ogidan: This is another director that is a force to reckon with in the industry. Tade Ogidan is a name that is famously associated with high standard movies. Part of his numerous achievements include the grooming of many movie celebrities that are today regarded as the best actors/actresses in Nigeria. Hardly will you watch any of his films featuring an half-baked actor, as those who have one time or the other featured in Tade Ogidan's films are perceived to be 'tested' and 'trusted'. Tade, whose block buster movies include Dangerous Twins, is also one of the few directors that pay actors handsomely.
Teco Benson: Unlike many directors, who lay their hands on any script, Teco tends to be more choosy, and once he decided to direct a movie you can be sure that it will turn out to be of international standard.
Apparently one of the best directors, Teco has professionally moulded many actors who are today known as super stars.
Easy-going Teco loves to be behind the scene, but his award-winning flicks have brought him to the full glare of the world. Part of what actually stands him out among others is use of modern technology, which can make his movies compete at the international level.
His latest movie, Mission to Nowhere, was celebrated in many foreign cinema houses before it was released.
Few of the blockbuster movies that this erudite director has directed include State of Emergency, Six Demons, Explosion, The Senator, The Prince, Wasted Years, Blood Diamond, Formidable Force among others.
Chico Ejiro: Fondly referred to as Mr. Prolific, Chico has paid his dues as a director. With many award-winning flicks to his credit, the story of Nollywood's success cannot be complete without mentioning him. He has also directed some wave-making soap operas like Treasures.
Aside doing his job diligently, Chico is well known as a staunch Arsenal FC of England fan. His undiluted passion for the English Premiership Football club seems to be getting stronger by the day, even as the club has not won any silverware in the last four years.
Virtually everything in his home and office are customized with the Gunners Logo.
Zeb Ejiro: He is the elder brother of Chico, and one of the early directors in Nollywood. Often regarded as a godfather, considering the number of years he has spent in the industry, many young directors of today were his protégés and the list includes his younger brother, Chico
Fidelis Duker: Fidelis Duker has spent many years in the industry as an experienced, innovative and creative producer. He has also trained many movie acts who are also making waves in the industry.
His penchant for innovation gave birth to the annual Abuja Film Festival, which attracts thousands of filmmakers in the Diaspora.
He also staged Kids Alone, a first of its kind children TV reality show to be held in West Africa. And with its first edition, the show has some laurels in its kitty.
Duker also loves directing TV serials.
Wemimo Olu-Paul: Although this Yoruba movie producer is based in Ibadan, his flicks have broken into the highly competitive Lagos market. No doubt, he is the most popular movie director in the entire Ibadan.
The success recorded by his jobs like Kodun Kopo Kope (KKK), Oyato, No Rival and Aye Jobele is a strong indication that he is a director that has broken barriers.
Muyiwa Ademola: Humble and intelligent Muyiwa is an African Movie Academy Awards (AMAA) winner for the best director of the year. His presence as a good director was really felt when he came out with the widely acclaimed movies titled Ori and Ile among others.
His soaring profile has so far been overwhelming.
Fred Amata: He can simply be described as a bundle of talent. Fred has so far been outstanding as an actor and director. He is one of the few renowned professionals Nollywood can boast of. His success in the industry has paved way for his smooth transition to the top of his career. His outstanding contribution to what Nollywood is today cannot be underestimated. He is definitely one of the top movie directors in Nigeria.
Amaka Igwe: Amaka Igwe is one of the few female directors in the country. Popularly known with her TV comedy serial, Fuji House of Commotion, Amaka is a woman of many caps. She has put smiles on the faces of people through her productions.
For also carving a niche for herself in an industry dominated by men, more kudos must be given to Amaka Igwe.
Izu Ojukwu: This is another director that has suddenly become a force to reckon with in moviedom. With many films to his credit, he recently emerged the best movie director of the year at the City People Entertainment Awards held in Abeokuta, Ogun State.
Tchidi Tchikere: Young and energetic Tchidi has registered his name among the top movie directors in the country. He was also a nominee at the City People Entertainment Awards.
Abbey Lanre: He gradually broke into the movie industry as one of the best directors so far. Unlike many Yoruba film directors who are conservative, Abbey Lanre in recent times has proved his critics wrong that he can raise the bar.
He is one of the wave-making directors of the moment.
Dickson Iroegbu: He has succeeded as one of Nigeria's best directors with movies like The Mayors, Women's Cot, Burning Desire, Romantic Attraction, Little Angel, Kill The Bride, Broken Marriage, The Trinity and Critical Condition among others.
In 2005, The Mayors was awarded the Best Original Screenplay, Best Supporting Actor, Best Director and Best Picture at the African Movie Academy Awards.
Dickson Iroegbu has carved a niche for himself as one of Nollywood's prime movers and shakers. He is the National Public Relations Officer of the Directors Guild of Nigeria (DGN