Funke Akindele Visits Ophranage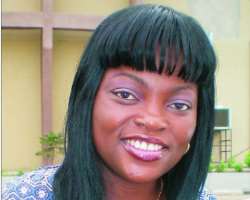 Award winning actress Funke Akindele of Jenifa fame recently visited the Hearts of Gold Hospice in Surulere Lagos. Actor of the Year at The Future Awards 2009, Funke Akindele, led a team of other award winners including ace music producer Cobhams Asuquo to the orphanage. According to a statement issued by Emilia Asim-Ita, PR Director of the Futures Awards organiser's of the award winners visit to the orphanage, Funke and Cohbams visit was put together under the Interventions arm of The Future Nigeria Project. The organizers of the awards took Funke Akindele, Cobhams Asuquo, Mosunmola Umoru (Business Owner of the Year), Dr. Adadayo Osholowu (Professional of the Year) and Emmanuel Etim (Best Use of Advocacy) alongside Wazobia FM's Matse and other members of the media to give donations and draw attention to the continuing needs of the orphanage and its children. The visit was scheduled to commemorate Children's Day.
The winners were then given a tour by the proprietress of the hospice, Mrs. Laja Adedoyin and were shown first hand how she manages very little resources to save so many lives. It wasn't long before many of the visitors, including Funke and members of the media shed tears on the conditions of the children. One of the babies called Miriam, according to Adedoyin, has undergone 11 surgeries, and is still not done with the needed treatment. Mrs Adedoyin was overjoyed to receive the guests. "I have been dreaming of the day I will meet the famous 'Jenifa'!", she said as she hugged Funke Akindele. "I didn't know that day will come so soon.
I have been waiting for this meeting ever since the organizers of The Future Awards told me you were coming. Thank you!" She also expressed her delight at meeting the inspiring Cobhams, whose piano skills, despite his visual impairment, she had always admired. She was just as excited to meet the other winners, and her interactions with medical doctor Osholowu, who came for the visit straight from hospital call duty, culminated in a promise to volunteer with the hospice. She revealed that the hospice needs a lot more volunteers