Sex for grade • Will you comply?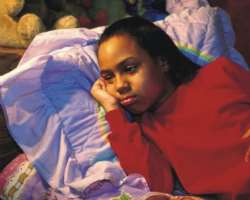 At last Pamela was happy she had only a few weeks to leave the university she had stayed for more than six years doing a 4-year course. Her predicament was not owing to her being not brilliant for the course she was studying but circumstances beyond her control as the first daughter; there were days she had to defer academic sessions because there were no funds for her to continue. But all her labour and determinations was about to be crowned with a job with a new generation bank; her joy knew no bounds. On going to meet one of her lecturer who was handling a course that had a four unit credit unit, she was made an offer; sleep with the lecturer and get a straight A or refuse and spend another extra year since the course was a core one. Pamela is now between the devil and the deep blue sea. Trend Reactions RITA IGHADALO went to some tertiary institutions in Lagos State to find out from some of the students what they would do if they were faced with the predicament Pamela is passing through and here is her findings.
Princess Blessing
As a final year student if my lecturer asks me to do it his way or else I will not graduate will I do what he wants? Sure I will. How can I be so stupid to come back to this school after spending four years? I will give him what he wants to get what I want from him because nothing goes for nothing. There is no big deal in it I will give him what he wants however way he wants it. If he wants the 'koko' I will give him the 'koko'. School is sometimes frustrating and I cannot write a course with my juniors when there is a lecturer out there willing to offer me an 'A' in his course.
Eze Onyekuru
To me it is as simple as ABC because number one I am just a student here; number two, I am not her husband; number three, I do not have anything to do with her; number four, I am not going to be disadvantaged if I should go ahead to carry out such an action. So if she should insist that that is the only thing she desires just to make me get my 'A' then I am going to make her feel my swag if she chooses to make me do it on and on and on she will beg me that it is ok. I do not mind as long as I get my 'A'.
Imade Maureen,
If my lecturer says that to me I will first of all be shocked because I respect myself a lot in the class and I see no reason why he should think that I am the one that will satisfy his sexual urge. I will ask God to forgive him. By the time I hold my Rosary and Mother Mary intercedes on my behalf I tell you that by the time the lecturer sees my beautiful face again he will assume that he is seeing monkey that has just licked lime; if you can imagine the reaction on that monkey's face then the lecturer will run from me.
Esohe Erimona
If my lecturer tells me that he wants me I will just laugh at him even if it is not a funny matter I will laugh because he is only playing with the child of the Most High God. I do not fear people for what they will do to me but I fear for people because of what God will do for them I know that when God fights for me the lecturer who fights against me will be humbled especially with issues that concern me.
Opsy
If that happens to be my case I will have it his way; I cannot come back after staying in this school for four straight years. I will gladly have it his way as long as he uses condom so that I will not have to make a mistake that I will regret for life. I hope he will tell me to do it once but if he says he needs me more than once I will agree to do it as long as I do not fail the course but if the man fails me I will take his picture to my village and he will get his reward too.
Bisi Fashanu is my name, to say no would be foolish for obvious reasons, I will say yes and pretend to play along with him but with great wisdom, I will not mind meeting him in a room that is far from school and I will hold a recorder in my hand or even call the policemen to arrest the issue I will manipulate and dribble him till I am through with him then he will have himself to blame. I am sure that at the end of the day his meeting me will put an end to all his stupid acts.
Roli Babalola
If na you, you no go do? I will do it and do more because I need to graduate at once. This school is not easy and when I am given an offer that will favour me then why should I not grab the offer after all no be today we start am; we came to meet it and we will graduate and our kids will also see it as an issue in schools. I will rather do it with the man over and over and over and pass the course than fail the course and see the man tormenting my life when I come back to write the course as a carryover course. The truth is that the man will still teach the course next session and he will still ask me to run shows with him so I will do it now and forget it.
I am Chichi Okafor
If the man insists I will only do it if it is behind camera and he will bring the record sheet for me to see him giving me an 'A' so that I will be sure that he will not dupe me. And if per adventure he deceives me I will take it up to another level and he will be thoroughly dealt with.
Abiodun Ariyo,
Ha ha ha, do you know that these things really happen not only here in UNILAG but in other institutions. As a matter of fact the guys are also being disturbed by female lecturers. If that happens to me I will boldly tell her that I am not interested and if she insist I will pray to God to remove the woman's eyes from my body. As a Born Again Christian I do the right things and I know that by the time I cry to God then I will overcome. I will not only write her course I will also pass with flying colours.
Segun Kareem.
That is a very nice question that you have just asked I want to let the whole world know that I cannot repeat a course because of an action of course I will have it her way. Yes I will do it with her as long as I wear a condom, nothing go happen abi na mi go get the scandal. As I sharp guy I will make sure that I play the game my wayans if she wants more I do not mind giving it to her as long as I get a good grade. I know It will not ruin my life in any way if anyone is to be affected I think she will be the one.
Daisy Effiom
As a child of God I will put it to God in prayer because there is nothing that prayers cannot do. As a student, things like this happen often I will not run shows with the man rather God will fight for me. I know that if I start doing such things then when I eventually get employed I might end up used so I will rather not do it so that I can have a good beginning and a good end.