Nollywood Will Rule The World —Duker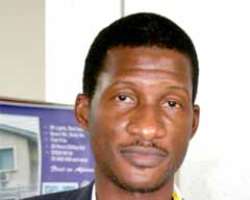 The Nigerian movie industry, Nollywood, has been rated number three in the world, following America's Hollywood and Indian's Bollywood, but veteran film maker, Fidelis Duker, has said that Nollywood will soon become the world's best.
The award-winning thespian is apparently one of those film makers that have carved a niche for themselves in the movie industry as best movie producers or directors in the country.
One of the remarkable achievements he has made in the industry is that most of the celebrated actors and actresses had one time or the other been his protégé.
Some of them include Bimbo Akintola, Bukky Wright, Ramsey Noah and Segun Arinze.
The easy-going Duker, who has spent many active years in the make-believe industry has however said that all things being equal, Nollywood will claim the number one spot in world ranking soon.
According to the guru who has represented Nigeria in many international film festivals and seminars, "I see Nollywood taking over in the next five years."
He said that with the improvement within the last few years, there is no doubt that Nollywood will attract a higher rating soon.
"The only factor that may militate against it is lack of government and corporate support. The government, individuals and corporate bodies need to support the industry financially. Although some corporate organisations have started doing so, we still need more.
"I'm very optimistic that if Nollywood gets the necessary backing, nothing will stop it from being number one in the world. After all, we have talented artistes in abundance," Duker said.
Senseless, a film directed by Fidelis Duker, was the only Nigerian movie screened for the 62nd edition of Cannes festival three weeks ago.
The flick however received reviews from the international panel of judges.
Senseless is an emotional drama about domestic violence. It is the story of a young lady, Adaora (Bimbo Akintola) and her temperamental husband, Kola (Femi Branch), who usually beats his wife.
One day, when the husband attempts to batter the wife in his usual fit of anger, the wife murders him in self defence.
Other stars in the film include Kanayo O. Kanayo, Madam Kofo, Ngozi Ezeonu and Segun Arinze.