When will street hawking end?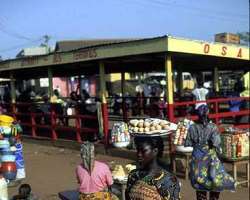 In most cities of Nigeria, street hawking is taken for granted such that people who have stalls and shops still consider it good business to engage in hawking. So, apart from the menace which young men pose by trading on the streets and highways, there is also the nuisance constituted by urchins who carry various sizes of wares in search of buyers.
The danger which hawking poses to parents and children cannot be understated. Suffice it to say that it has became a problem of immense social proportion has haven attracted the attention of several governments within and outside the shores of Nigeria.
To be sure, street hawking has been an age old practice for children and young adults. It is noteworthy that most of the hawkers on the street were not sent by their biological parents as such persons have often been sent away from their families to far away places as hired helps.
Sometimes they are taken away by a relation on the pretext of helping them out but end up in the streets selling one thing or the other.
Some people use the same pretext of helping poor families to take these children and traffick them to other countries.
The federal government has vehemently opposed this form of slavery through agencies like the National Agency for the Prohibition of Traffick in Persons.
Recently, also the Child Rights bill was passed by the National Assembly. But it is yet to be signed into law. In Rivers State, fortunately, the bill has been signed into law and it is now a crime to engage any child below 18 years as househelp.
The law also seeks to eliminate street hawking not just by children, but of any kind. There is also a law against street trading. How have these laws impacted on the people, and what does street hawking mean.
Nedd Tamuno, a businessman, says street hawking "is abuse of children. Most times you find out that these children are not the biological children of the ones who sent them out hawking".
Tamuno said the root cause of street hawking is poverty and should not be encouraged, going by the risks these children face on the streets.
"It gives me heat flashes each time I see these children in between cars on the highways all in the name of trading", says a motorist who would not have his name mentioned.
He noted that the risk of accidents is inevitable, and therefore, supports the ban on hawking. For street trading, he said "leave those ones alone, as it is the only affordable space they could find to earn a living".
Another respondent, Adama Ogu, a school teacher, says it is child abuse to send a child on the streets to have. "There are other ways a child could help parents at home, not by hawking on the streets", she added.
"I can not advocate street hawking by children. The adults can do it, no problems. But children, no", was the retort of Grace Alabo, an undergraduate.
She explains, "after what I witnessed in my yard, where a man of 46 years cunningly lured a little girl of about 12 years who was hawking bread and "akamu" to buy him sugar and milk. When the little girl came back, he cleverly went into his house and asked her to bring it in.
When the girl came out she was crying. Inquiring into what the matter was, I noticed that there was blood on her legs. On further investigation, I discovered the little girl had been raped by this pervert whose youngest child was even older than her. I cannot agree to hawking by children's, she emphasized.
Another respondent, Iwari Golden, say "the problem I see with children hawking is that often they are forced by their parents/guardians or circumstances to do it".
Another respondent, Uwana, said street hawking and child abuse are two different things and should not be mistaken. One is a crime, the other is helping ones, parents.
"As children we helped our parents make some money for the family. If you helped your mother hold younger ones while she went to the market to do some selling, you have helped make some money for the family", she said.
"As a child I did not have the opportunity to go street hawking because my grandma whom I lived with was a seamstress, but I would sit in her shop when I returned from school and had had my meal so she too could go have her own meal and prepare the evening meals as wells" says Rebecca Green.
She says children these days are indolent and do not want to help out in the homes. "If a child is street hawking she should be appreciated? With the present economic hardship, most a families are unable to make ends meet and some of these "children hawk for themselves", she added.
Uduak, who is 15 years old said, he does it to see himself through school. He explained that his father is late and there are six other children to cater for, so being the oldest, he decided he would take care of his needs, and he can only do that by street hawking.
According Iwari Abonu, there are too many poor families in Nigeria and most families have not other option than to send their children to people who are willing to take them who now send them street hawking. She said, these people are not to blame. The ones to blame are corrupt politicians and civil servants who steal money and make life difficult for the masses."
"Government should stand up to its responsibility to end street hawking. For now they are only making money for unscrupulous revenue collectors and taskforce agents who impound their wares and extort outrageous sums of money from them; she emphasised.
Perhaps more proactive measures are required to tackle the problems which have made hawking by children so attractive in the face of danger on the roads, in the streets and in the minds of some wicked members of the society.