Battle for Jide Kosoko' seat hots up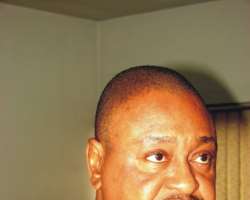 If you think the only place where the drum of war is beating fast, deep and with apprehension is in Ekiti State, you are dead wrong! Politics is presently in the hearts of Nollywooders as they get set to elect new officers into different posts of their associations. The battle is fierce in the Association of Nigerian Theatre Practitioners (ANTP) led by veteran actor, Prince Jide Kosoko. Jide Kosoko's tenure ends next year and he is not eligible to seek a second term because the ANTP constitution stipulates only one term for the president.
Among those jostling for the post are top stars like Yemi Solade, Yinka Quadri, Evans Ashaolu, Dele Odule and Ebun Oloyede (Olaiya). And as we write, heavy politicking and political alignments are going on to ensure victory at the polls.
Yemi Solade is taunted to have the brightest chance, but the odds against him are too heavy to ignore. For a start, he is the most educated of the lot and he expresses himself better than any of the contestants. He is also popular and has a corporate appeal, which many believe can lure cor- porate bodies into the Yoruba genre of Nollywood. But with his intimidating advantage and good aura Yemi Solade might not get there. Those who matter in the indus- try and the younger elements that are in the majority are not favourably disposed to his presidency for many rea- sons.
To many, Yemi Solade talks too much and does so little. "Tell me one thing or one idea Yemi Solade has done since his Mettusellahic year in the industry. At every avail- able opportunity, he tells you he is a trained actor and that he has been in the industry for ages, yet he can't point to one thing he has been able to achieve in the industry with those advantages. He has not done any movie of his own that set standard, neither has he been able to propagate an idea that has changed the association's fortune for good. And I disagree on the fact that he has the corporate look that could lure corporate bodies to the industry. He does- n't have as much of that aura that Jide Kosoko has, yet the corporate bodies are not looking our ways", a Nollywood practitioner who prefers her name out of the press told us.
That aside, Yemi Solade will have to climb a tall moun- tain to get the job. He has been saying that one of the first things he would do as soon as he gets the job would be to change the name of the association in the name of rebrand- ing. That move is not going down well with the power blocs of the industry. He is also said to dislike caucuses that exist in the industry. And he is campaigning heavily against licking the boots of those he described as 'shady characters' to survive. Many term that to mean reference to those dating motor park warlords to live big.
Some female elements whose stock in trade is dating rich men to keep up with the Jones are frowning against that. The chief of his offence to those who don't want him is his insistence on education being a prerequisite for registration for members of the association. "What has education got to do with acting?" An actress asked us when we asked of her opinion. Are Yinka Quadri, Ogogo, Baba Suwe and so many others educated? Are we not enjoying their acting on our screen? This man is just trying to prove difficult and we will make it difficult for him. Where does he want to put those that are not edu- cated? Acting is first of all about talent before any other thing. That stand won't work in this association, he con- cluded.
For those who see Yemi Solade as too radical, Yinka Quadri comes as the natural choice, but his lack of education is a foremost barrier. "Now that we are talking of taking the association to the next level, it would be a great disservice to have someone like Uncle Yinka Quadri at the helms of affairs. How do you expect him to relate with ministers, sen- ators and the likes in English? Uncle Yinka would have been the best candidate.
He has the clout and the followership, but he lacks the finesse and edu- cation required to take the association to the next level", another commentator told us. This commentator need not bother himself that much because Yinka is said to have stepped down for Dele Odule, whom he sees as a brother.
"Dele Odule is articulate and believed to be well educated, but he has the disadvantage of being the Jide Kosoko's Vice President, an administration many see as ineffective. Dele Odule is a good candidate, but the odd against him is that of all the four years he spent as the Vice President, he was seen largely as ineffec- tive. As Vice President, Dele Odule rarely came to meetings and he is not seen to have contributed that much to the industry.
He prefers to stay in his base at Ibadan and goes about as if he was not part of the executive. Now, he wants to come back to rule the same association he did not regard. This cannot be. And if we are to excuse him because he is not based in Lagos, what about his contribution to the development of the industry? He did not contribute enough in four years as Vice President to warrant us give him the opportunity to rule the association", another commentator said.
From the look of things, the pendulum might swing to Dele's side for two major reasons. One, he is part of the conservative and ruling blocs of the industry. The likes of Jide Kosoko and Oga Bello are solidly behind him. The fact that he has the caucus with the largest number of prac- titioners, the Odunfa Caucus, behind him is a major plus. Dele Odule is educated and can speak good English. That alone is another big plus. But he doesn't have crossover appeal, the kind of face a Jide Kosoko or Saheed Balogun has and that appeals to English fans and non-Yoruba speak- ing fans. Time would, however, tell how far he would go.
Evans Ashaolu, General Secretary of the association is also eyeing the post, but there are many people waiting for him and are ready to do battle with him for daring to take the association to court when he was removed as the General Secretary. "Countless number of people begged him not to go to court, but he refused. "How do we entrust such man with the affairs of the association?" An actor asked. The younger element, however, are yarning for a change. They want something new, fresh, young and with crossover appeal. "The reason we went for someone like Jide Kosoko was because of his crossover appeal. Even if the only movies you watch are English movies, you can- not claim not to know him. Again, he is highly educated and has what it takes to lead us out of the wilderness. We can't say he did that, but we know the association has a face during his reign. We've tried old hands, we now need young hands to change the trend and put us on the map of national consciousness."
The known younger elements that can do that are Saidi Balogun, Yomi Fash Lanso, Muyiwa Ademola and the likes. But the hurdle is that they are not interested. Saidi Balogun is the only one among these younger elements that has the crossover appeal, but he appears not to be interested. Another younger element that is gathering huge followership among the English fans and has the required intellect to lead is Funke Akindele (Jenifa). But the older elements will never consider her because of her age. As a matter of fact, it is unthinkable. A commentator who was angry over the lack of interest asked when the association would move forward with this apparent lack of interest in the affairs of the association by the young actors.