Ini Edo returns, says she's not pregnant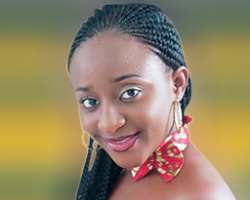 Even when she is not in the country, she has people talking about her. Some said she was pregnant and others said her husband had asked her to quit acting.
Yet, when http://nollywoodgists.com saw Ini Edo at the local wing of the Murtala Mohammed Airport last Saturday, she was anything but pregnant.
Looking beautiful as ever, she sat alone at the VIP lounge of the airport before a fan walked up to her. Life and Beat overheard her explaining to the fan that she was not pregnant.
She said, "I thought people would not recognise me on my return, going by the rumour that I was pregnant. I still don't know who told these people I was pregnant. They should go ahead and speculate, I am not ready to answer anybody."
Asked if her husband had asked her to quit acting, Ini said, "No. I am still working. In fact, I am on my way to Benin where I am shooting a movie. I thought people would leave me alone when I travelled but I was still hearing all the rubbish they were writing about me. It is so funny." She disclosed that marital life had been sweet and she had been enjoying every bit of it