Censors board suspends 13 A-list distributors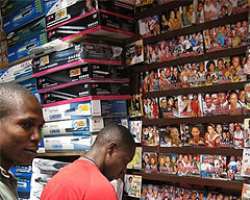 IN a daring move that has sent shockers to industry watchers, the National Film and Video Censors Board has suspended the operating licenses of 13 top distributors for acts that ran contrary to the regulations provided by the new framework on film and video distribution in the country.
The erring licensed distributors are; Corporate Pictures, Deraco Productions, Remmy Jes, Global Update, Rick Rock Productions, Magic Movies, Highwaves, and Ulzee Music Nig. Ltd.
Others are Christian Dior Music and Video Ltd, Infinity Merchant Nig. Ltd, Get-Rich Productions Ltd, De-Kross Movies Production Ltd and Best Life Epsalum Movie Production
A statement issued by the board said the move was taken in its full determination to sanitize the film industry.
The Board frowned at the manner distributors were repeatedly breaching the home video release process, releasing films without classification labels and circumventing other tenets of the New Framework with impunity, despite a strict resolution reached at a recent Distributor's Congress, held in Abuja to redress the practice.
The Board had in a memo to the President of Film and Video Producers and Marketers Association of Nigeria, Mr. Emma Isikaku and the President, Yoruba Video Film Producers/ Marketers Association of Nigeria, Prince Jide Kosoko, on March 4, 2009, entitled "Incessant Breach of Censorship and Release Regulations", expressed its displeasure at the flagrant abuse of the statutory regulations on censorship and home video regulations of the Board by its members.
It noted that "under the Framework on Distribution and Exhibition of movies, it is an offence bordering on criminal plot to release a movie into the market without due censorship and release protocols". Adding that it would henceforth hold the entire leadership of the associations culpable for further breach of any of the protocols of the new frame work on films and video distribution by its members.