FEMI OGEDENGBE STRANDED IN LONDON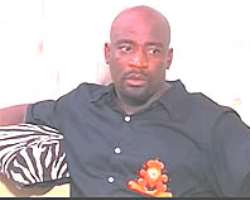 Femi Ogedengbe jetted out of the country sometime ago to shoot a movie in London, ever since he left; busy bodies said he was just roaming the city of London begging any Nollywood artiste that comes his way for a role in his movie free without a pay.
Though, some of those artistes who have known him with this act out-rightly turned his offer than while some wannabes quickly jumped to it without a blink.
Is it a must one shoots a movie in London? This is what some of the stakeholders in the industry who later got wind of the disgraced act of Femi in London said.
Methinks there was a kind of brotherhood in the Yoruba genre of the movie industry until I am made to know that the there is actually a caucus.
Alonge Micheal for http://nollywoodgists.com