Husbands, wives and extra-marital affairs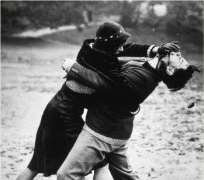 As many women who have undergone the traumatic experience of the present day exploitative institution called marriage would confess, it is only a cheap ply designed by society to plunge the female folk into perpetual slavery says an economist.
The whole idea of marriage is a bundle of drama woven into a non-conventional theatre. Meanwhile, a man wakes up in the morning and in the name of marriage picks any pretty young girl into one strange home. Whereas the man is free to stay away from home and indulge in extra sexual relationship as he likes and no one raises an eye brow, his female partner would have a second lover over our man's dead body, she must sit tight.
One day the woman shows a smiling face to a neighbour next door and even doing the real thing. She has committed abomination unheard of the next thing she is thrown away with reckless abandon in a manner not good in the eyes of God.
She goes away without anything to fall back on. Defiled and battered as a hopeless divorce; she is plunged into unprecedented and abject financial situation.
The ugly scenario of our society is that of ubiquitous divorcees and broken homes with their associated socio psychological problems.
These problems which erupt daily like a volcano is bound to worsen, so long as men often go against all rules to subject women to perpetual sufferings in the name of marriage.
Will human beings and their second millennium after without coming to grips with the ugly development?
Chipping in a word concerning this, Blessing Gold a school teacher said that marriage is a contract between two people who have come to an agreement to become one flesh or in the alternative a kind of protocol predicated on a legal binding piece of paper called marriage certificate, a dull repetition of the "better for worse" portion in the book of the common prayers.
If marriage is organised in the natural way a boss session is arranged after which the couple is believed to be married.
This system is placatory and cosmetic, she stated.
A more romantic relationship would be cohabitation living together with necessarily predicating such relationship on a piece of paper, calling for a free for all boozing session or going to the altar, declaring that love is the real thing and not marriage.
It is true that people have different opinions concerning marriage. I think partners should be more considerate towards each other, while being cautious on how to sustain the relationship. This way cases of divorce, unnecessary bureaucracy, huge expenditure on booze, exploitation and monopoly associated with legal and traditional ways of doing thing s would be gone for good.
All the hues and cries about high bride price would be laid to rest to rise no more.