I Wanted To Become A Medical Doctor, A Pilot Or A Lawyer - MC Basketmouth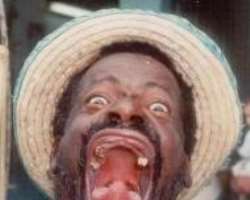 He is a comedian of repute; he is also a musician noted for his hit track, Nigerian Girls. Born Ernest Essien, he had hoped to become a medical doctor or a lawyer but destiny threw at him comedy and MC Basketmouth, as he is popularly called, has no regret for towing this line. He tells Adia Ukoyen in this interview this much and more.
Why the choice of comedy for a career?
I did not choose it, it chose me. I believe it is the hand of God – destiny. Moreover, it gives me joy and money too.
Can you recollect your first day on stage, how did it go?
Professionally, that was at the Legend re-launch in 1999 and it was a huge success.
What makes a comedian successful, especially in such a competitive market?
Packaging, good sense of humour, originality, fun and total belief in God.
You are also a musician, why hasn't that part of you grown as much as the comedy part?
Well, maybe I am taking it one at a time. But I am releasing my album soon. Don't forget I still do live band performances.
How did your parents react when you told them you wanted to become a comedian?
I didn't tell them, they found me doing it. Musically, my dad was down with it because he was a fantastic singer and a choir master. He didn't live to see the comical part of me. He was a very funny man, though. But mum is enjoying the popularity now as MC Basketmouth's mum.
Talking about popularity, how do you deal with fame?
I do not allow the fame to get into my head. I try to be modest in everything I do. What if I was not popular or famous? I just try to be me.
How wealthy has entertainment made you?
I have enough to take care of my family, meet up with my daily needs and wants. I give God all the glory. It has made me comfortable.
How did you come about the name MC Basketmouth?
Originally, it was Basketmouth but I later changed it to MC Basketmouth when a younger brother came on the scene. People just started calling me Basketmouth when I used to perform at a restaurant in Apapa, and since then, the name stuck.
Can you recollect a day that all seemed to go wrong for you on stage?
It happened in Uyo when I and Klint De Drunk performed at a government banquet and he went on stage before me. By the time it got to my turn, people were already itching to go, so nobody was listening to me. But I've put that behind me.
How do you source for jokes?
From my environ-ment, people, books, newspapers, TV, the Internet, my daughter and family. They have a fantastic sense of humour. Happenings in the society are also good sources of jokes, and not forgetting the greatest comedian of all times - BABA GOD!
When you were a child, what had you hoped to become?
Like every child I wanted to become a medical doctor, a pilot or a lawyer, though I loved singing a lot and used to want to be like the musical youth group of Pass the Douche fame.
What was growing up like?
Growing up was a lot of fun with plenty of discipline, my dad being a military man. I grew up where there was plenty of love, unity and protection. I grew up in Jos, went to St. Michael's Primary School, Command Secondary School in Jos. We were seven in the family; dad, mum and five of us, though we lost two of them; my dad in 1993 and my immediate younger sister in 2006. We had very caring parents who brought us up in the ways of the Lord. We really had a very happy family.
Your song, Nigerian Girls, is a hit. What inspired you to write the song?
Life. When we started playing music in Lagos, there were no clubs but hotels and I saw the kind of lives the girls were living. There were prostitutes everywhere and they came from all over the country. So, I decided to sing about it.
Who are your role models?
My father and my colleagues. Each inspires me differently.
How would you assess the entertainment industry in Nigeria?
We are almost getting there. What we have today was not there 15 years ago. Now, no event is complete without a comedian. Entertainment is now feeding families, building homes and giving us meaningful livelihood. We just need government's involvement as it is done in the West. We have musicians making good money, actors too. The industry is growing. We only need to put the right structures in place and soon it will become a big money earner for this country.
When you are not at work how do you relax?
I read, watch movies and stay at home, so that I can spend quality time with my family since I travel a lot.
How did you meet your wife and is she in the industry too?
Yes, she is an actress and a costumier, though we met faraway from the industry. We met twice before we hit it off. I told her she was my wife the first day we spoke. I just knew she was the one to be my wife and since then I have not regretted that move.
What attracted you to her?
Her natural beauty and she is hairy. I always had something for hairy babes because my mum is hairy. She also has these big dreamy eyes that turn me on. She has everything I always wanted in a woman and to me, she is God-sent.