NDLEA boss arrested in London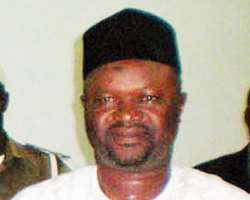 Director-General, NDLEA, Chief Lanre Ipinmisho
The Director-General, Nigeria Drug Law Enforcement Agency, Mr. Lanre Ipinmisho, was allegedly arrested at Heathrow Airport, London, on Monday, for having a gun on him when he arrived from Nigeria.
According to Elendu Reports, Ipinmisho was detained for a few hours at the airport and allowed to go.
A spokesman for Scotland Yard said, "At approximately 8:30 am on Monday in the search area of VIP section of Heathrow Airport, a man bearing the same name as the one you mentioned was found with live ammunition. This ammunition was confiscated and he was allowed to go. No further action will be taken on this matter."
Another source commenting on Ipinmisho's arrest said, "If the man was a trained law enforcement officer, he would have known the protocol concerning carrying arms, especially when you are going into a foreign country. It tells you how our big men see this country.
"Several security sources express surprise at how the Director-General of the NDLEA was allowed to carry ammunition into an aircraft. "This is a matter that must be investigated by the government. Someday a mad man will carry ammunition and shoot people in the plane just because he is a big man. Who authorised Ipinmisho to take arms into the plane? The government must give us the answer."
Responding, the spokesman of NDLEA, Mr. Mitchell Ofoyeju, said that the story was false.
He said, "The story is not true. The DG (Ipinmisho) doesn't carry arms.
"To say that he was caught is unthinkable."