ARA SET TO DAZZLE DIGNITARIES AS ZENA IGBINEDION WEDS IN BENIN THIS WEEKEND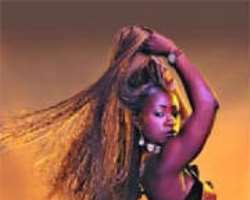 Talking drum prodigy and African culture ambassador, Ara, would pivot the stage in Benin, Edo State Nigeria this weekend as she performs at the wedding of Zena, daughter of former governor Lucky and Eki Igbinedion.
http://www.nollywoodgists.com gathered that Zena, the grand daughter of Osawaru of Benin Kingdom, High Chief Gabriel Igbinedion would be getting married to Ebeagbo.on the Friday 13 and Saturday 14 March 2009. Zena is popular because of her lingerie shop in Victoria Island yet she works in a blueship corporate organisation.
This wedding is coming shortly after a carnival like wedding ceremony, which took place in the Igbinedion household.Remember, Omosede,the last daughter of the Patriarch of the family and his wife, Lady Cherry got married to Prinze Akenzua an it was attended by the movers and shakers of the society.
As expected, Zena's wedding is also expected to have all the tappings of royality and all the who is who in corporate Nigeria, politics and diplomatic communities would be present.All eyes who be on Ara to deliever her craft laced with excitement to make sure that people have a feel of Nigeria's rich cultural heritage. She would also be expected to pomp her new single, 'Dun mi ninu'- an appealing love song that is currently making waves on air.