FREDRICK ASEROMA TURNS PRODUCER!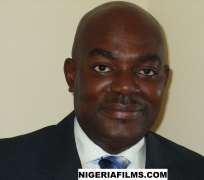 Ever wondered why Fred has been out of circulation for a while now? Don't fret too much. He has been into bigger and better things in the Diaspora. Fred has started to carve a new niche for himself in the UK and the USA. Now a Director of Communications in a resonance production company Tifrehil Communications, a UK based production outfit, he is still a force to be reckoned with and gradually becoming a household name in the Diaspora.
A reserved Fred told Nollywoodgists of his new ventures.
Nollywoodgists:
Hello Fred, how are you?
Fred:-
Brilliant.
Nollywoodgists:
You have been to and fro Nigeria. It seems to have been out of circulation for a while. What have you been up to?
Fred:
Well, It is true I have been to and fro Nigeria. Contrary to your belief, I have not been out of circulation, just that I have been busy abroad with some productions and recently returned to the UK from Nigeria after producing a Yoruba Blockbuster film titled 'Folake Taku' coming out soon.
Nollywoodgists:
This, I believe would be your Debut production as a Producer. What made venture into production as against acting and also a Yoruba movie.
Fred
Yes you are right .Well, I have always nursed the aspiration of being behind the camera as well as in front of it. You know prior to being an actor, I was a model and a TV presenter. Consequently, when acting showed its prospects, I took it. As for this production, I was personally invited to produce this by a friend. It would not have mattered to me if it was a Yoruba or English movie. It was the script that motivated me.
Nollywoodgists:
Can you tell us more about the film?
Fred
It's a story of a couple who live abroad and are in the force. The lady however is called back home by her father who is ill to take over his multinational company much to the annoyance of his other dubious Directors. A lot then happens along the way. It's thought provoking and quite informative about the ills of wealthy people in our society and how justice prevailed.
Nollywoodgists
This sounds likes like a normal story. What will make it stand out?
Fred
Well, I can tell you that the story is different and quite unpredictable. It's very different from the normal ending of most stories and shocking too. The quality and calibre of the crew and cast also are enviable. I don't want to reveal anything more than that.
Nollywoodgists
Okay, fine enough. But, can you tell us more about the cast and some of the crew?
Fred:
The cast is star studded with the likes of Dele Odule, Jibolah Daboh, Ayo Mogaji, Jide Alabi, Pa Kasumu, Hakeem Rahman, Femi Fadeyi, Kemi Ogunde, Bisi Ogunde amongst others.
However, the beauty of this is that some cast came from London such as Lady Titi Jacobs (LadyTJ)-the Director, Simi Akinsola, EP, his wife and the lead role was played by the beautiful Hilda Nevoh-Williams an Ibo girl.
I personally brought the crew as I wanted a high quality work. The DOP was Isaac Martins popularly known as Bullett and as you know, he is one the best DOP's in Nollywoood supported by the likes of Jacob (Lighting) and Dozie, Location Guru.
It's really a must watch for everyone.
Nollywoodgists
Whao! We cannot wait to watch this movie. When is it likely to come out?
Fred
Well, we are now in Post-Production and hopefully, it would come out in Easter or Summertime God-willing.
Nollywoodgists
Very well. So, what's the next thing after this?
Fred
We (Tifrehil) are in pre-production as we speak for another movie titled Lizzy. This would be shot both in the UK in March and completed in Nigeria afterwards. Watch out for that too. Also, we are already in production for two soaps titled Packaged and In Da Salon.
Nollywoodgists.
That's great. We will look forward to all these movies. Thank You for your time.
Frede.
You are welcome.