EFCC Arrests Adeyemi Ikuforiji, Lagos Speaker Over N7bn Fraud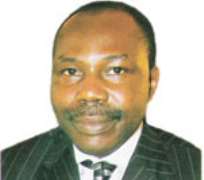 2015 is not here yet, but the battle for the soul of Lagos has intensified as accusation and counter-accusation between the National Legal Adviser of ACN, Dr. Muiz Banire and the Speaker of the Lagos State House of Assembly, Adeyemi Ikuforiji, is getting
messier by the minute.
Huhuonline.com understands that the Economic and Financial Crimes Commission, has arrested the Speaker based on a petition, said to have been authored and signed by Muiz Banire.
Speaking to our correspondent, EFCC said his arrest resulted from a petition to the anti-corruption agency accusing the Speaker of financial crimes to the tune of N7 billion.
Aside from the N7bn fraud, Rt Hon. Adeyemi Ikoforiji   is also alleged to have been economical with the truth, as he failed to   reveal his criminal past in his submissionS to INEC.
According to the petition, he concealed his status as an ex-convict in the form he filed with the Independent National Electoral Commission, INEC, during the last election where he won a seat to represent Ikeja constituency 2. He also served two terms as a representative of Epe in Lagos State.
Asked about the status of speaker, Femi Babafemi, EFCC spokesperson explained that he was still being held.
Excerpt of the petition which was obtained by huhuonline.com, reads: That Mr. Ikuforiji has used his position as Speaker of the Lagos State House of Assembly to collect a monthly running cost of N500 million on a first line charge.
In the last 14 months, he has collected not less than N7 billion which he has been funneling abroad to buy properties through proxies and his automobile company called Brown Motors, located at 2 Mobolaji Bank Anthony Way, Maryland, Ikeja Lagos.
 

'That Mr. Ikuforiji committed perjury by denying his record of conviction in his INEC forms submitted in 2007 and 2011, whereas he has been committed twice in the United States in 2001 and 2005.'

A source close to the Speaker also told Huhuonline.com that the Speaker who had travelled to the United States of America, from where he went on a holy pilgrimage to Mecca, had to return after he got the invitation to report at the EFCC headquarters.
The Speaker, who just returned from the United States of America after a holy pilgrimage to Mecca, returned yesterday (Thursday) as a result of an invitation he received from the EFCC asking him to report at the headquarters in Abuja.
There has been information that the EFCC was investigating some politicians in Lagos State including the Speaker. But Ikuforiji had continuously denied been involved in financial scam.
A close aide to the Speaker confirmed the arrest but denied that the he was been detained. According to him, the Speaker was only asked some questions and has been released.
Another source within the Banire group explained that the petition emanated from his boss and that his boss has been monitoring the Speaker using some of his colleagues at the Assembly.
'Hope you remember that we recently unearthed his conviction at the United States of America?
'We will continue to do more until he is impeached and his wings broken'.
On April 22, 2001, ikuforiji was first convicted after he was arrested for drunk driving in Wake County, North Carolina. His record, based on his case number 2001CR040190 shows that his residence then was 2116 Saturn Street, Raleigh, NC 27603.
He was also arrested over credit card scam totaling $22,731.00 in 2003 while he lived at 9112 Yates Bay, Minneapolis MN55443.