Flamboyant Lifestyle of HITV Boss, Toyin Subair..Buys N5 million Champagne for Birthday Bash..Why He Can't Pay Salaries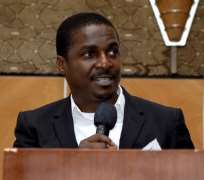 The fully Nigerian own pay satellite television, HITV is swimming in financial crisis, Yemojanews.com can authoritatively reveal.
According to an insider, the troubled financial state of HITV can be traced to financial indiscipline and flamboyant lifestyle of the Managing Director of the pay television station, Mr Toyin Subair.
The source informed us that the big boy loves to live big, and all expenses incurred are debited into the company's account.
Yemojanews.com learnt that anytime Mr Subair travels out of the country, (which he does regularly) he flies first class and lodges at most of the expensive hotels in the country he visits.
'If it's a local flight in Nigeria to either AbuJa or PortHarcourt from Lagos, Toyin Subair rarely flies on commercial airlines. He always travels on a chartered flight', the source said.
Our source also reveals that, Subair owns over 10 state of the art wonders on wheels in his garage.
According to investigations, the HITV boss is currently building a N100 million naira private Cinema/ Theatre in Adeniran Ogunsanya street, Surulere, Lagos.
We gathered that, the young entrepreneur celebrated his birthday few weeks back in London and the company had to settle the bill of N5 million, which was the cost of the Champagne consumed at the bash.
Toyin Subair's expensive lifestyle has adversely affected the business as the visit to the company's headquarters at Yaba, Lagos shows that the place has now turned to a shadow of itself.
According to an insider's information, the late Managing Director of GT Bank, Tayo Aderinokun, who was one of the strong financiers of the Pay TV once warned Mr Subair of his wasteful spendings.
Aderinokun particularly complained about Subair's penchant for chattered plane for local trips.
Our source also disclosed that it was the same flamboyant lifestyle that made one of Subair's financial backbone, the former governor of Lagos State, Ashiwaju Bola Ahmed Tinubu to withdraw his money from the company.
Right now, HITV is groaning under financial pains as it owes his staffers about 4 months salaries while patronage is also getting low.
Meanwhile, we gathered that Mr Subair is yet to change his flamboyant lifestyle while there are genuine fears that he may run HITV aground.