We treat women like babies, so they prefer male stylists, says Uyiosa Usoro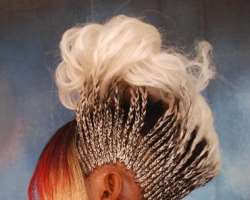 Hairdressing was believed to be a female-dominated business, but men are fast taking over the job. In this encounter with YEMISI ADENIRAN, a male.... stylist, Uyiosa Usoro who runs Rouston Concept in Ogba, Lagos, speaks about his attraction to the job, the challenges of dealing majorly with the opposite sex and his plans for the future.
How did you psych yourself up to start hair dressing business?
When I came to Lagos four years ago, my intention was to get some money to sponsor myself in the university. I was then living with my uncle, Osamuri Akenobo, who incidentally is in the business of styling and braiding women''s hair. He is a nice guy and he was helping me out with money every time. I just finished my secondary school education then and I thought within myself, why won't I learn this trade and begin to earn some money for myself, instead of collecting money from my uncle all the time. You know it is good to be fed with fish delicacies, but it is best to know how to get the fish yourself. Surprisingly, what I had thought would take me a longer time to learn was very easy. I learnt very quickly and after a while, I started enjoying the job. I stopped bothering myself with the idea of looking for a job and I have been having a swell time ever since.
I can see many of you are young men, how have you been coping with dealing with women everyday?
There is no big deal about it. Every work has its own dictates and I am sure there is no job anywhere where you don't have to deal with women. As for this one, I believe I am working to earn a living. But truly, you know it is not easy dealing with women especially when it comes to getting this close to them, but we have to be gentle and very professional since we are surviving through them. So, we accept them the way they are and we treat them like queens, bearing in mind that customers are always right in whichever way they present themselves. At the initial stage, when I first came to Lagos, there were very few men in the business, women were so many, you know, it is their world and their business. But as time went on, men began to increase as stylists because we discovered that women prefer men to braid their hair for them.
But why?
The reason is that men concentrate more in whatever they do. Aside this business, men generally are not easily distracted. This is an edge we have over our female counterparts. We are faster and milder too. Women talk too much while they do their work and as a result waste unnecessary time. Besides, men are more gentle and equipped with that quiet mien to handle their many complaints.
For instance, you know women are complicated by nature, you cannot satisfy them easily. A woman may smile this moment, the next minute, she may find something wrong to frown or scream at. It could be something troubling her from home or her work place and she will simply transfer it to you.
But we treat them like babies and delicate beings that are special no matter what. A woman wants you to talk to her, understand that she wants to come out of the salon looking sweet and better than any other woman around her, even if she doesn't possess anything that resembles a woman. She wants to be seen as a queen, so when you make her feel like that, she won't go to a place where she will possibly feel she is irrelevant.
Most of the times, women derive fun in oppressing others. When a pretty woman enters a salon, the others look at her and say in their minds "what does she think she is?" Psychologically, she is affected. We just appreciate them, the way they are, pamper them and make sure we give them recognition every time.
Doesn't this entangle you in some romance with them?
Well, not really. The truth is the job gets one very close to them and you know, some will want to take you into confidence on some issues bothering them. However, having been trained about all that it takes to survive in this world of women, we have to be strong and principled, otherwise, the business won't grow. Once you begin to date many of them, your money will also be 'hanging in the hair', you know what I mean. It is a great task but we have been surviving by God's grace. It is dangerous to allow pleasure to interfere with one's business. I am still very young and I don't want to destroy my future with unnecessary pleasure.
What actually was your initial plan in life?
My dream is to become a lawyer. I still nurse this dream and I pray it will become a reality one day, but for now here is where I have found myself and I am grateful that it has been worth the while.
Can you tell us why there are more men in this business as against male-dominated ones?
It is for financial reason. A lot of us want to have something to do with our hands but there is no money. In Nigeria, if you do not come from a well-to-do home, making it in life may be difficult. Many of our parents can neither afford to send us to school nor pay the bill of apprenticeship of some jobs. Also, help is not coming from the government and we do not want to steal. Besides, it is cheaper to learn this trade. The learning fee is just N10,000 for six months and if you position yourself very well, you can get the money as you work. It is everyday you get money. For other jobs like carpentry and bricklaying, even driving, it takes time before you can qualify. To establish yourself is equally not as easy. The hairdressing business is also a neat job and I guess that makes it a better option.
How often does a worker make money?
Stylists are paid N700 per head while an apprentice can get as much as N300 from a customer.
What are the challenges you face on the job?
Apart from the harassment from the Lagos State government officials, who come almost everyday to disrupt our work and the epileptic power supply, we don't have any major problem. Because of the activities of the government officials, we have to keep shifting our location. It is painful that the government which cannot give us job takes delight in chasing us up and down, but we thank God for His grace.
Are you saying all has been well between you and your female counterparts in the business?
What do you expect? They are not happy with us, but since there is no association binding us together they have not given us much problems. There are times, however, when one or two of them have come to accuse us of snatching their customers, but we have had to settle them in our own way.
What advice do you have for youths who want to make money through illegitimate ways?
I will implore them to rely on their God-given ability and not to dupe others. They should work hard and stay focused as nothing good comes easy. I like legitimate and clean business. I believe God has a purpose for each person so, they should learn to be patient and be determined to make it the neat way. They should beware of hastily gotten wealth, it will fade away the speedy way it came.