Nigeria-South Africa Bi-National Commission To Discuss Visa, Other Issues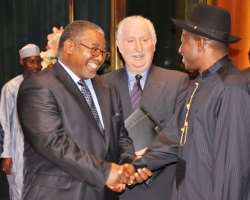 PRESIDENT GOODLUCK JONATHAN (R) GREETS VISITING SPECIAL ADVISER AND SPECIAL ENVOY OF SOUTH AFRICAN PRESIDENT JACOB ZUMA, MR CHARLES NGALUKA DURING HIS VISIT TO THE STATE HOUSE IN ABUJA, WEDNESDAY, AUGUST 24, 2011.
SAN FRANCISCO, August 24, (THEWILL) - President Goodluck Ebele Jonathan has directed Vice President Mohammed Namadi Sambo to, under the aegis of the Nigeria-South Africa Bi-National Commission, further explore the possibility of making issuance of visas to citizens of both countries easier.
President Jonathan was speaking to Hon. Charles Ngakula, Special Adviser on International Relations to South African President Jacob Zuma, who brought a special message to the State House, Wednesday.
He said, "I have told my Vice President, to quickly commence meetings of the Nigeria – South Africa Bi-National Commission, to look at issues such as issuance of visas for our citizens who need to transact business in our two countries."
President Jonathan expressed appreciation to the Government and people of South Africa for the warm and cordial hospitality being enjoyed by members of the Nigerian community living in that country.
He said Nigeria would continue to make efforts to further strengthen the cordial relations between the two countries, and thanked Hon. Charles Nqakula for the message from President Zuma.
Earlier, the Special Adviser to President Jacob Zuma had expressed his country's appreciation of President Jonathan's contributions to the development of Africa, and his role in strengthening the Nigeria-South Africa Bi-National Commission.
He briefed President Jonathan on other issues of bilateral and multilateral interest.