LOUBOUTIN VS YSL. NOT YET UHURU!!!!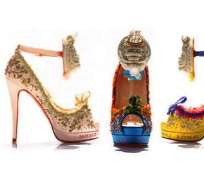 The case between the 2 iconic brands is not yet over, though YSL won the round 1, where the courts gave a ruling that the rival YSL brand can also sell shoes with red soles, something that as always been the signature of Chritian Louboutin. Now CL is not taking the court decisions without a fight, they are already filing an appeal at a New York court. Christian Louboutin had in April filed a case seeking $1,000,000 in damages against YSL for copying what they had believed was their copyright, the red soles, that has become a legend now and a signboard of the Legendary shoes was 1st used in 1992, when Mr. Louboutin first painted the soles of a shoe he had made, with a red nail polish and according to Christian Louboutin himself- ''Sole bright red is used to tell you, this pair of shoes is my design. Woman in this pair of shoes better able to attract men's attention.''.
The premise for the case according to CL is that the YSL sales of the lookalike shoes is - 'likely to cause and is causing confusion, mistake and deception among the relevant purchasing public.'
Top luxury company YSL later counter sued Louboutin claiming-stating that the Christian Louboutin, which claims to have been awarded an official trademark for the red sole in 2008, had no right to monopolise a colour.
YSL's legal team said: 'Louboutin's trademark should have never been granted.
'We just don't think that any fashion designer should be able to monopolise any colour. It has become the battle of the titans, and we are all waiting to see and hear about the final outcome.