Uduaghan, Atiku Extol, Eulogise Aikhomu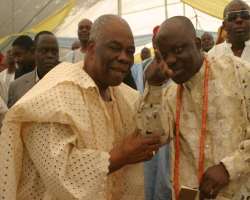 L-R: LATE FORMER VICE PRESIDENT, ADMIRAL AUGUSTUS AIKHOMU AND DELTA STATE GOVERNOR, DR EMMANUEL UDUAGHAN, CHATTING DURING A FUNCTION A FEW MONTHS AGO.
LONDON, August 18, (THEWILL) – Delta State Governor, Dr. Emmanuel Uduaghan has condoled the Aikhomu family and the government and people of Edo state over the death of former military vice president, Admiral Augustus Aikhomu (rtd).
In his condolence, Dr. Uduaghan expressed shock at the sudden death of the naval chief at a time when the country needs wise and elderly counsels to forge ahead in unity and love.
According to him, late Aikhomu was not only dedicated, diligent and faithful to his professional calling (the Armed forces) but to the country which he served at the topmost level.
Besides, the Governor eulogized Aikhomu for his loyalty and commitment to a united Nigeria as exhibited in his firm believe in one indivisible Nigeria.
"As a politician, Admiral Aikhomu was a moderator whose mien distanced him from the extremists fold. He was a peace maker that would be missed by all," he stated.
He prayed God Almighty to grant the family, the government and people of Edo state, the fortitude to bear the loss.
Atiku Says Aikhomu Is an embodiment of humility
Former Vice President Atiku Abubakar has said the death of former Vice President Augustus Aikhomu is another great loss to Nigeria, considering the deceased's nation-building roles while he served the country.
Atiku said in a statement in Abuja by his media office that Aikhomu's contributions to the stability of the country cannot be forgotten so soon.
He said Aikhomu was such a detribalized gentleman who combined that with humility and joviality. "He was accessible to almost all Nigerians while he was in office," Atiku said.
In the words of Atiku Abubakar, "the late Aikhomu had demystified public office to a point public office was no long feared or considered a no-go area for the citizens in a strictly military environment."
Former Vice President Abubakar recalled that during his public life, the late Aikhomu kept away from controversy, speaking only when it was necessary.
He said Aikhomu performed his job faithfully without fishing for publicity while doing so, saying that this is a rare quality among those exposed to the trappings of power.
According to him, Aikhomu was team player, a quality that had endeared him to many.
"We haven't seen much of him in the recent years, but on the few occasions we met, he was very lively and jovial and it was a real pleasure to see him in spite of the cancer that ravaged him from within."
He prayed for the repose of his soul and for strength to the family to bear the loss.