ALL EYES ON PORSCHE NIGERIA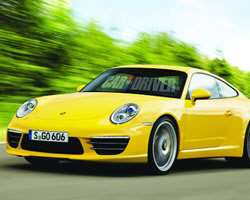 • Porsche 911
The stunning new Porsche 911 is simply a car worth waiting for! And this is the summation of the views of car freaks who have been looking forward to seeing it for the first time when it premieres in Europe anytime this year, before going on sale as a 2012 model. Ditto for those waiting for its arrival in Nigeria.
After the international launch, 911 is expected to be available at the newly opened Porsche showroom on Victoria Island, Lagos, an edifice which Daily Sun Motoring learnt had been attracting attention from Porsche lovers and those seduced by the sheer beauty of the building.
Checks also show that there are plans to gradually build a network of Porsche showrooms and service centres across the country with Abuja as the next port of call. For now, the brand's customers in Lagos and the outskirts, service their cars at the ultra-modern Stallion service complex in Gbagada.
The Porsche showroom/office building epitomises the brand's commitment to doing business in Nigeria, through the equally committed Stallion Motors, Nigeria's largest auto stable which has since the early 90s recorded huge success with no fewer than nine front-running auto badges, starting with the Japanese Honda. In addition to being one of the most-recognised luxury brands in the world, Porsche is also one of the most successful auto companies in Germany's history.
Pending the arrival of the latest 911, the Porsche showroom is making hay with an array of other siblings. There was the Cayman coupe the last time we visited. There was also the latest model of the good old Cayenne SUV. The iconic sports car, Boxter Roadster, was seen deservedly receiving special attention, while the brand's first four-door Panamera attracted more than its fair share of attention from the impressed visitors.