LATEST GIST ON ACTRESS INI EDO,RUKKY SANDA AND CHIKA IKE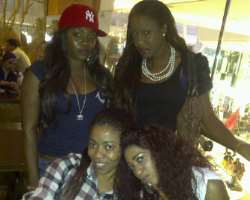 Source in London swear the three actresses are in their vicinity but only spotted Rukky Sanda and Chika as they went about shopping for a private party they attended on Friday Night, August 12,2011.
Rukky was spotted in a white and black short arm T-shirt and her hair piece was wine while Chika had on all brushed to the back long hair piece and black top plus cream pearl beads.
According to source," The celebrant of the party is one honorable who is the boyfriend of one of the actresses who was spotted.
The private party, according to the insider, was also a venue for the actress girlfriend to introduce her boyfriend's friends to some actresses of their choice.
Hmm,na wah o.