NO DOLLAR SALARY FOR MINISTERS -JONATHAN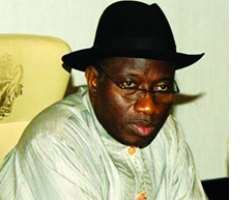 President Goodluck Jonathan was excited yesterday as he swore in he Minister of Finance and the Coordinator of the National Economic Management Team (NEMT), Dr. Ngozi Okonjo-Iweala.
The president announced that she and her colleagues from the Diaspora in the cabinet had agreed to be paid in naira and not dollar as reported in the media.
President Jonathan said her acceptance was already generating favourable comments from world leaders, especially African leaders who had congratulated him for succeeding in pulling her back home.
He said her return was not just to manage the ministry of finance but to use her vast knowledge in economic issues to play a key role in economic issues in the country.
Jonathan also announced the composition of the NEMT with himself as the chairman, Vice President Namadi Sambo as the vice chairman and the minister of finance as coordinator. Other members include the ministers of National Planning, Trade and Investment, Power, Petroleum Resources, Agriculture, Works, Education, Health, ministers of State for Finance and Health.
Also in the team are the CBN governor, chief economic adviser, special adviser Monitoring and Evaluation, the Directors-General of Budget, Debt Management Office, Bureau for Public Procurement (BPP), Infrastructure Concessioning Regulatory Commissiion (ICRC) as well as the honorary advisers on Agriculture, Finance, Economy and Mr. Atedo Peterside.
The president, who said he was very proud that Okonjo-Iweala accepted to serve in the country because of her pedigree, noted that she was back on a farmilar terrain and assured of his full support in order not to disappoint Nigerians who believed she had the magic wand to fix Nigeria's problem.
'For today's ceremony, there is the need to make one or two statements. First let me welcome Dr. Ngozi Okonjo-Iweala on board, a very familiar terrain. She was here before most of us here, as a minister of finance, then as minister of foreign affairs briefly before leaving.
'Let me thank you for accepting to come and serve because considering the position you were holding at the foremost World Bank, it is difficult for you to come back to serve as minister in a country. And I am saying this with all pride because when your name was made known and it entered the media, anywhere I go heads of state and government, were wondering why you would even agree to come and they were appreciative of me, especially the African presidents that I did well to pull you back home to help to solve the African problem because they know your worth in the World Bank.
'Let me also thank the World Bank particularly Zulick for allowing you to come, for co-orporating with us and promising to support us. It is an opportunity for us to thank the World Bank and also thank the president especially. 'People wondered why we want her back, we want her back not just to manage the ministry of finance but we are privileged to have her, as somebody who is quite vast in economic issues and we want her back to play a key role in a economic issues in the country.
'Of course you also know that in the immediate past, she also introduced the idea of Economic Management Team during Obasanjo's time and we followed up; the late President Yar'Adua and myself. This time around, we are expanding the Economic Team because we believe the country is one, yes the states have their own economies but if there is no proper coordination in the management of the economy between the Federal Government and the states, we cannot go anywhere as a nation. And that is why the Economic Team this time around, there will be some governors as members but Ngozi is brought in to coordinate all economic activities of the Federal Government and of course, by extension, help the states.
'Let me also thank other ministers brought in from the Diaspora; we know it is quite challenging to move from developed countries where you were working, the question, sometimes the media asked and I know for Ngozi it was quite embarrassing when you accepted to serve, it was in the media that you gave conditions to be paid in dollars.
'Let me formerly announced to Nigerians that she has accepted to serve just like any other minister and indeed others who came from the Diaspora have not asked us for dollar salary. They are going to receive salary and allowances like others in the cabinet. They are coming to serve the country and are not coming because of their personal aggrandizement.
'For you, the expectation, not just for Nigeria, the whole world, is quite high. People expect so much from you, some people feel you have the magic wand to wave and change everything but I believe with your level of experience and with the support we will give you, and of course cooperation of your colleagues, all of you collectively will help to change our own country, you will help to work to make sure that our transformation agenda move smoothly and get to the destination expected.
'I am quite happy with the ministers on board because this time we are emphasizing this cluster arrangement even though the economic management team has not been formally inaugurated, I am aware that the core economic ministers have been meeting in the minister of petroleum resources office. They have been holding meetings to see how the ministers can work together. So your job is easier because even before you take the oath of office, already people are doing the work and they are working together. So the spirit is already there for you people to work together and I will give all the ministers the political support to do what they are meant to do and I believe all of you will succeed.
'From next week probably after the Sallah celebrations, various ministries will give us comprehensive briefings, where we are and where we want to go. Issues of financing our project for the next four years will be key and of course you will be in all the briefings because the issue of the briefings usually end with money. There is only one minister that told me and I pray that it should be so that Mr. President after one year the government would not need to spend money in my sector, we would be able to generate enough funds to drive my sector and I said if we can get that kind of minister in all the sectors it would be lovely.
'So we are quite hopeful that you have the team of ministers that are really ready to transform this country. I am quite pleased with the interaction I have been having with few of them for now both the ministers and the ministers of states, they have the spirit, the willingness to work hard to change our country. I think I would be one of the luckiest presidents that would have this kind of cabinet. So let me once again thank you and indeed all the ministers for accepting to serve our country.'
The occasion was witnessed by her aged parents, her son and some captains of industry.