'MY MOVIE NOT BASED ON MERCY JOHNSON'S ISSUE'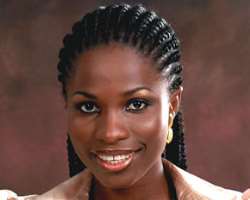 Blessing Effiom
Model-turned filmmaker, Blessing Effiom, speaks with JAYNE AUGOYE on insinuation that her new film, Two Brides and a Baby, centres on the controversy surrounding the proposed wedding of popular actress, Mercy Johnson.
When the Nigerian model, who turned filmmaker, Blessing Effiom, wrote her latest movie, Two Brides and a Baby, little did she know that the storyline will bear a striking resemblance with the controversy that now surrounds Nollywood actress, Mercy Johnson.
As soon as the movie hit the Internet, people began to link the storyline to the tale of confusion trailing Johnson's proposed wedding. The rumour is heightened by the fact that the lead actress also looks like the buxom actress. But Effiom thinks otherwise and says she is not out to tell the actress' story.
She says, 'How can I do that deliberately? A film I shot in March? And wrote in 2010? This kind of things happens to people in real life, and as a film maker, I tap from real sources. So, it's pure coincidence. Well, if you say (they) look alike, now that is true… you do have a point there. The resemblance is striking but I tell you it was not planned. How could it have been? It is just a case of art imitating life.'
Starring Stella Damasus, Kalu Ikeagwu and O.C Ukeje, the movie tells the story of a couple, whose wedding plans are shatterered during a dress rehearsal. While surrounded by friends, the groom's ex shows up, and a cupboard full of secrets are opened, exposing concealed reactions of everyone directly involved – including a challenged married couple and a troubled engaged couple.
An interesting feature of the movie is that it parades a host of relatively unknown acts, a situation the leggy producer says is deliberate.
Effiom, who had produced and featured in movies that include The Rivals , After the Vow, Working the Lane, African Queen and Before the Vow, turned her back to the trappings of modeling to pursue her love for the movies.
She says 'After leaving the banking sector, I went into modeling and took part in and won THE ECOWAS BEST MODEL in 2002. Then I got into the world of international modeling, travelling the world in the process while I finally settled in Cape Town, South Africa. 'In that time, I got bored of just being a face and the body of some product or brand. I began questioning my choice of career. I needed something more challenging and inspiring. I went straight into action and took up screen writing and producing courses at the City Varsity film school and so began my journey into the beautiful world of film making.'
Armed with a degree in film making, the mother of two and University of Calabar Theatre Arts graduate has not looked back ever since.
Although her first movie role in the 90's movie, 'Bleeding Heart' fetched her N8, 000 after starring in four scenes as a barmaid to Ngozi Nwosu, she says she remains eternally grateful for the opportunity. Effiom, however, boasts that a lot of resources was invested in Two Brides and a Baby. According to the Cross River State born artiste, the new film will be shown in film festivals and cinemas from November 25, 2011.