EXPOSED! EX-GOVERNOR BOLA AHMED TINUBU BUYS 3 PLANES FOR 40 BILLION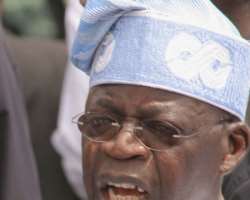 Former Governor of Lagos State, Asiwaju Bola Ahmed Tinubu allegedly acquires First Nation Airways (formerly Bellview Airlines).
According to source, shortly after Tinubu completed the takeover of the airline in 2010, he ordered for three new aeroplanes from the United States of America to beef up the fleet of the airline.
The planes were delivered in early April 2011 and are at the Murtala Mohamed International Airport, Ikeja, Lagos already painted with the airline's name and logo.
The Airbus A320 is assembled in Europe and has sitting capacity of 220 passengers.
It can travel at a range of 3,100 to 12,000 KM.

The cost of one aircraft is put at $85 million (N13.6 billion).Our checks revealed that the aircraft is the very first on Nigerian soil, only few airlines in Europe and America have this type of aircraft.
The former Governor, who served the people of Lagos from 1999-2007 reportedly has other business interests in the Lekki Toll Services, Eko Atlantic City.
He is also the promoter of The Nation Newspapers.