KABBA JUNCTION OF DEATH AND DISTRESS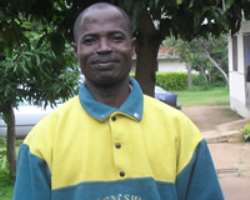 Kabba Junction might not strike most Nigerians as a place of much significance. Given its size and stature, it is doubtful if many non-indigenes of the community can locate it on the Nigerian map, let alone tell a thing about it.
But not minding its seeming obscurity, only days ago, it stoke the sensitivity of all and sundry following the gruesome crushing of an estimated 50 armed robbery victims by a bus said to be fleeing from robbers' onslaught during an overnight raid.
For those who know, Kabba Junction is notorious for up tempo crime and criminality. It is one spot that evokes sad memories of sorrow, tears, blood and death. It lies on the Okene - Abuja Highway, a few kilometres from Okene town in Kogi State.
From there, one can access Kabba, the headquarters of the old Kabba Division. It is a confluence of sorts for motorists going to the North through the third most popular road, connecting the North with the South. Not many travelling North or southwards can avoid it.
For long, an enormity of heinous things has been happening there. Those things are only known to a few who have been suffering in silence following the pain and injury inflicted on them by robbers from the pit of hell.
Those who know the spot like the back of their palms say the fear of the area is the beginning of wisdom. It is one area where vicious highway robbers rule with guts and gusto.
Confirming that the area is a danger zone, Uche, a former luxury bus driver, reveals that robbery on the spot is common place. 'I worked with a popular transport company for 18 years.
While working for that company, every week, either in the day or night, I was always either travelling up north or down south. So, I can confirm to you that Kabba Junction is one of the most dreaded spots in the country. On several occasions, I was robbed there. As soon as you pass the Kabba Roundabout and begin to descend the slope where you have some bush, as you are going to Lokoja, robbers always lay ambush there mostly at nights. Sometimes they are there in the daytime. Sometimes they are frequent. Each time they are there, they hardly go away empty handed. They rob motorists until they are tired.
There is hardly anyone to challenge them. By the time they are through, you will see innocent blood flowing like water,' he recalls. On Monday, August 1, just a day before Daniel Dauda, an indigene of Plateau State marked the eighth anniversary of the vicious armed robbery attack on him at the same Kabba Junction, an incident that led to the amputation of his right leg in 2003, news of the double tragedy that befell about 50 Nigerians crushed to death at the same spot broke. With a tinge of nostalgia in his voice, this father of three recalls how he and his boss narrowly missed death in broad daylight while travelling to Jos.
'We were returning to Jos from Edo State on that fateful day. When I got to that spot, I saw over eight masked men all wearing black clothes. They didn't even signal me to stop; they started shooting at us. In that confusion, I saw two corpses lying on the ground. So I summoned courage and sped on. But one of the robbers kept firing at the car. In that sustained onslaught, some bullets shattered my right leg, and I couldn't drive any further. The vehicle on its own rolled and rolled and then stopped. I passed out. I only recovered in a hospital in Lokoja. Days after, I was moved to Jos. Before I arrived Jos, my wound had started to fester. There was nothing the doctors could do other than to anputate it. Now, I can't do anything meaningful to help my family.'
Corroborating Dauda's story, his boss, Pastor David Onomase Omorebokhae of the Redeemed Christian Church of God (RCCG) in Jos said: 'It was 1.20pm in the afternoon when we got to the spot. Upon seeing us, their commander issued orders so they started shooting from all sides. It was like war. They wanted to wreck our vehicle to force us to stop. Our car's fan belt and alternator were shattered. It was a miracle how we escaped.
The moment my driver hysterically announced that he had been hit and could no longer drive, I thought the end had come. But as God would have it, our car with that speed, rolled up to 500m and then stopped. With uncommon courage, I sprang out, dragged my driver to the passenger seat and then sped off. One kilometre down the road, I saw a checkpoint mounted by some policemen. I told them about our plight, but they didn't do anything to assist neither did they make attempt to go after the robbers.
I pulled up at a hospital along the road where the nurse on duty gave him some infusion and stabilised him because he had lost a lot of blood. 'When I attempted to move him to Lokoja for further treatment, to my surprise, the car couldn't even start, let alone move. One hour later, I hired a cab and moved him to Federal Medical Centre (FMC) Lokoja. There, I bought pints of blood to resuscitate him. In the ward, he was next to a luxury bus driver who was shot in the thigh a night before. It was then that I realized that robbery on that spot was a regular thing. In the morning, I was horrified when the police hauled in corpses of travellers who were shot dead there the night after.'
Recent happenings show that robbers operating in Kogi State are doing so with so much impunity. Daily Sun gathered that on June 6, 2011, a People's Democratic Party (PDP) stalwart whose identity was not given was shot dead by robbers along Ida - Ajaokuta road. He was elected to represent Ida Federal Constituency in the House of Representatives, and was due for swearing in before he met his sad end.
Indeed, the recent crushing to death of innocent passengers, including women and children, has turned out to be a thing of great concern. Horrified Nigerians are feeling scandalised.
On account of that, Daily Sun gathered that the zonal Assistant Inspector General (AIG) in charge of the area, Amutalo Ephraim and the Kogi State Police Commissioner, John Abaka Sanga, have been growing grey hairs over the incident. According to Kogi State Police Public Relations Officer (PPRPO), Okesanmi Ajayi, the duo has been working round the clock to halt the embarrassing trend.
'The sad incident at Kabba Junction was a big problem to all and sundry, including the police,' Ajayi noted with pain. 'I want to assure Nigerians that the police in the state are doing everything possible to bring the incident to a minimum. 'What happened at Kabba was both unfortunate. We have never had anything of such before now. To tell you the truth, the very night the incident happened, our crack command was in Okene hunting down robbers. They killed some, arrested some while the rest escaped with bullet wounds, But the cops never knew that something of that magnitude was happening right behind them.
'I assure Nigerians that the police in Kogi State are on top of this matter. Since it happened, we have been re-strategising. The AIG in charge of the zone, Amutalo Ephraim, and the CP, John Abaka Sanga, have been meeting regularly on this matter. Apart from the normal intelligence gathering, foot patrolling and surveillance duties of our men, we are looking at scientific and more sophisticated ways of dealing with this situation.
We intend to do more that we have been doing in the past through closer community policing and co-operation to arrest these robbers and recover guns. We are taking this business a lot more seriously and we want to assure Nigerian that we will arrest this situation.'