No comments on my failed marriage –Rose Odika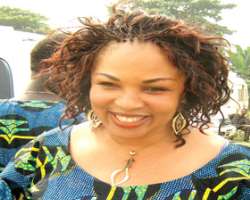 The name Rose Odika will always ring bell any day, in the Entertainment scene as an actress and movie producer. Not just that, the screne diva is really an epitome of beauty and an actress with a class, having carved a niche for herself in Nollywood.
In this interview with KAYODE OLUFOWOBI, the Ododo-Eiye fame actress spoke on her failed marriage, the newest catch in her net, her range of beauty products, and chieftaincy titles, among many other issues. Excerpts..
What has kept you away from the screne for some time now ?
I've been very busy with some other businesses.
Like what ?
I'm into skin care products called Rose-J.B. What I do basically in that regards is mixing a variety of products,depending on the kind and texture of people's skins. Because not all products are suitable for every skin. This is where some people, most especially the women out there, often make mistakes by just applying any kind of products (creams and soaps with other make-up materials) which in turn tell on their skins. It is so absurd to see several young ladies with their skin conditions deteriorating to the extent of developing very bad odour, that they can no longer go out without applying several combinations of deodorants or perfumes. Some have given up and have lost hopes of getting over these kinds of trauma, but I am telling them that it is not so.
Is it because the movie industry is not that lucrative that you ventured into that line of business?
It is not like that. Besides, I am still very much in the industry. In fact,nothing can take the love of acting away from me. It's a business I finally decided to take up as a result of being disturbed by people who love my skin. They usually ask me to either show them or get the kind of products that I use to maintain my skin for them. Since I do the mixing of the accessories by myself, that prompted me to establish the outfit and we have been recording outstanding successes ever since we started.
How long have you been in the business ?
Not quite long. But it is actually not how long but how well, as you will agree with me.
Talking about acting, how did it begin ?
It started when I was in my early years because I used to be in charge of whatever had to do with entertainment in my school then. The Vice Principal of my school then, Dr.Mrs.Ero discovered me after seeing the talents in me as I could sing, dance and also act. She advised me to put in my best, that I had a future in the entertainment industry. Because my father was an Inspector of Police, we moved with him to Ibadan from lagos, and I attended Ahmadiyyah Grammar school, now Anwarul-Islam Grammar School, Eleyele here in Ibadan. I also have a B.Sc in Health Education from Alvan Ikoku College of Education,Owerri (an affiliate of U.N.N. Nsukka) against my father's wish to study English or German Language which was never possible then because JAMB really gave me a tough time. In fact, I wrote the examination on three different occassions. Then, it happened that a man called Mr.Fatilewa, also an artist, was staying the next door to ours. He took me to the shooting of a soap opera in 1990, though I had been with Dr.Bode Sowande's Odu Themes from 1989 and I was with them till 1993 when Wemimo picked me. So, I've been in the industry since 1978.
How was your first experience on set ?
There was a bit of problem, because it was not very easy for me to face the crowd on stage initially, as I began with stage-play. But that of the camera was not that embarrasing as I had already maintained some degree of closeness with good hands in the field by the time I moved into that.
Which of your works did the magic and which was the most challenging ?
It was Ododo-Eiye. Because I had to act like a drunk, which seemed to be a bit tasking then as a Catholic and as a female.
Is there anything fame has now taken away from you ?
A whole lot. Like privacy and lifestyle. I used to love eating "iresi elewe"(cooked rice prepared in leaves). As a matter of fact, I used to buy it anywhere, anytime I saw people hawking it. And I would eat it with my bare hand, right there. The funniest thing is that I never got fed up of taking it because I could take it thrice or more in a day, but I have really missed that now. Then,one can not go out or move around in public transport, you can not visit the local cafetaria to eat or take a stroll without being harassed or even embarrassed by some fans or lovers in the process of appreciating and admiring you, while some will expect you to give them several thousands of Naira which they do not even know if you have on you or anywhere else and so on, which does not happen that way in the developed countries. But all of these have been fun.
What about the other way round, has it done you any good to you at all ?
Of course ! As my people normally say, "appearance shows the manner" and "whether one is okay or not, his/her flesh will tell." The Almighty God has really done me well in all ramifications through this profession. And the fame has also opened several good and positive doors for me. To God be the glory for everything.
There was a time you were said to have been conferred with a chieftaincy title. Which town was it ?
It was Yeye Oge of Lalupon, here in Ibadan.
What has been your strength over the years?
It is God. He has been there for me, despite my unfaithfulness. He has never disappointed me. I have no power, no special value or potential, but absolutely an outstanding grace and mercy of God.
You unfaithfulness? In what manners?
All manners.
Can you share some with us ?
No, it is a personal thing.
But my Bible tells me that we should confess our sins to one another, or is it not written in yours ?
(Laughs) But you are not my Reverend Father. He is the only one to confess my sins to, aside my God.
Will you agree with what people say that your beauty is a great advantage for your recorded success in the industry ?
As a screen figure, be it an actress, a broadcaster or singer, it is very important to be exquisite. So, I do not have any cause to dispute that fact.
As female Deputy Governor of your association in Oyo State, how do you cope with other male counterparts ?
I have always thanked God for providing a very nice and extremely credible people to work with. From my able Governor to the members at large,they are all wonderful people, I have never regretted my being elected as the deputy governor.
You have a movie in the market now. What is the title ?
It is titled Enu-Eje.
What about your family ?
I was once married, but I'm now single with a beautiful daughter.
You don't need to tell us that because you are a beauty yourself or am I wrong ?
(Laughs) You are the judge here. And thanks for the compliments.
What caused the break-up ?
It is a forgotten issue, please.
Were you the one that could not make the marriage work ?
It was how God wanted it to be.
In that case, you are available right ?
Unfortunately a capital letter No.
Why? Don't you want to re-marry ?
I am already in a relationship .
Who is the lucky man ?
A good and God-fearing man.
So,when should we be expecting the wedding bells ?
When it is time, you will know. Just cross your legs and open your ears as usual.
That means you are calling us busybodies?
(Screams) No ! For Christ's sake, what I mean is that you will get to know when it is time.