THE SUN BREASTFEEDING AWARENESS LECTURE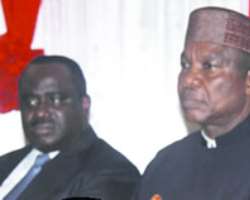 The breast milk has been described as a three-course meal. The milk the mother produces after delivery, which is yellowish in colour, is called colostrum and should not be discarded as some women do.
The first milk during breastfeeding is lighter, which is more watery. This is the foremilk - the water provided for babies in the breasts is found here.
The latter milk from the same breast is thicker, the hind milk, higher in calorie, high-energy portion of the milk - the main course of the breast 'meal'. Mothers must feed babies long enough, like 10 to 15 minutes on a breast at each feed for the baby to get to this main meal.
It is quite worrisome that Nigeria's compliance to the breastfeeding code ratified by the United Nations in 1981 is 13 per cent as against United Nations Children's Fund (UNICEF) average of 37 per cent.
Some West African countries like Ghana have attained 63 per cent compliance, and that is a challenge to Nigeria.
Speaking during a stakeholders forum on breast milk organized by the Sun Publishing Limited, publishers of Daily Sun, Saturday Sun, Sunday Sun and Soccer Star titles, Dr. [Mrs.] Dorothy Esangbedo, President of Paediatric Association of Nigeria (PAN), stated that there is something in breast milk meant for human beings, which you cannot find in any other milk.
She therefore, called on women to do exclusive breastfeeding for, at least, the first six months of life followed by increasing adequate nutritious complementary food with continued breastfeeding for two years and beyond as recommended by the World Health Organization (WHO) and UNICEF. On the benefits of breastfeeding, Dr. Esangbedo said, 'Breastfeeding prevents gastro-intestinal diseases like diarrhea in babies, which causes about 30 per cent of infant mortality. Breast milk has nutrients the baby needs in the right proportions and creates special bonding between mother and child.
'Breastfeeding also reduces the incidence of breast cancer, ovarian cancer and cervical cancer in women,' she disclosed.
Earlier, Managing Director of the Sun Publishing Limited, Mr. Tony Onyima, stated in his welcome address that the company was pleased to join the World Alliance for Breastfeeding Action (WABA) and its affiliates in celebrating the World Breastfeeding Week, which ends today, August 7, because beyond its traditional role of informing and educating the citizenry, the media have other social responsibilities, which includes public enlightenment and creating awareness.
'It is in this spirit of social responsibility that we are undertaking today's event. It is our intention to leverage our reach and appeal to the middle class to educate Nigerian women on the benefits of breastfeeding on a continuous basis.'
Mr. Onyima, who noted that the infant mortality rate in Nigeria was the highest in Africa, with about 800,000 Nigerian children dieing before the age of five annually, also added that, 'a healthy nation is a wealthy nation. Building and maintaining the well-being of a nation is the responsibility of all. Our business, we believe, can only thrive when citizens spend less on healthcare..'
We cannot but make our enviable products instruments of promoting the health of infants, the future generation of our dear country, Nigeria. Chairman on the occasion, Mazi Sam Ohuabunwa, President and Chief Executive Officer of Neimeth, commended the Sun Publishing Limited for taking the lead among other media in creating awareness for an issue like breastfeeding. 'This shows how responsible the media house is. At the end of the day, Nigerians would be better for it,' he said.
Special guest of honour, Deputy Governor of Lagos State, Mrs. Joke Orelope-Adefulire, who was represented by Mr. Kunle Ajanaku, stated that motherhood was a privilege to the world. 'In those days, breastfeeding was never an issue, but today, we have to encourage our young mothers to breastfeed as the best option.'
Meanwhile, in recognition of his good leadership and courageous fight against fake and counterfeit drugs in Nigeria, Director- General of the National Agency for Food, Drug Administration and Control (NAFDAC), Dr. Paul Orhii, for whom the lecture was held in his honour, received an award from The Sun Publishing Limited at the event.
Responding, Dr. Orhii, in full of appreciation of the award, dedicated it to the entire NAFDAC family. He encouraged mothers to do exclusive breastfeeding as recommended by WHO and UNICEF.