I USED TO BE IN LOVE BUT NOT IN LOVE ANYMORE.GHANAIAN STAR ACTRESS,YVONNE NELSON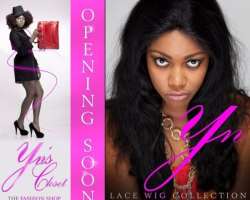 Sexy screen diva, Yvonne Nelson is one of the best role interpreters in the Ghanaian movie industry.
In a recent interview, she opened up on soft porn movies produce in Ghana and her love life.
Excerpts from the interview.
you are known for sex roles. Is that your calling?
That's funny question. Anyone that might have said that maybe because of the one I have done that has a little sex scene, and I think it's the movie poster, Forbidden Fruit which caused a little controversy. And I was not the one there. And in the movie, you realize that people did worse than I did, and I can mention a lot of Nollywood actresses who are also doing the same thing now.
And I have not even done five of such movies where some of Nollywood actresses have done more than 20.
I have not showed any sensitive part of my body. I can never go nude completely in any movie.
Most Ghollywood movies have many sex related scenes. What is your take on it?
Do you know your fact is not right at all? I don't think I am in that position to answer that, a director should be in the best position to answer that.
For me,I can't boast of five movies of such scenes and any time I feature in movies like that, it has to be classy and not trashy like other people do.
People are just taking advantage and over doing things and it is not going on in Ghollywood again.
There is a new movie produced in Ghana, Sex City?
I am not aware of it. How can I answer when I am not part of it?
Producers are just taking advantage because they think it will increase their sales. I don't think it is fair because they are abusing it.
Have parents in Ghana ever complained about the sex scenes?
Any parent would complain about such movies. Some foreign movies have sex related scenes, and when we produce a family movie, the children should watch such.
Any movie written above 18years, children shouldn't be allowed to watch movies like that would always be around.
Don't you think it promotes immorality?
Yes of course, it does. That is why I am saying if at the end of the movie, it's just sex; parents should keep watching their children because it is not only in movies they see such scenes. They see it on internet as well. People should not put it all on these movies.
It's just the producer taking advantage.
What does it take to be an actress in Ghana?
You must be talented and you must have the whole packaging and also be presentable for TV. Above all, you must be passionate and have all the required skills.
What is the difference between Nollywood and Ghollywood?
We are all the same. I don't want to discriminate.Yes, we are Ghanaians and you people are Nigerians, still we are the same.
The only difference is that Nollywood has a bigger market than the Ghanaian movies. And I give all the credit to Nollywood because our directors, script writers are all Nigerians.
But recently the directing, script writing is doing pretty well too, but all the credit goes to Nollywood because Frank Pajah is still in Ghana directing for us.So, there is a bit of Nollywood in Ghollywood.And we are doing better.
What is your reaction towards Nollywood and Ghollywood actors paying tax in either country before featuring in movies?
I don't think it's real because I just did some few jobs in Nigeria.
John Dumelo is also there doing his works. It's just the stuff people read that mislead them.Rumours can be very dangerous when it gets to a point that looks like the truth, and readers can't differentiate the truth form rumour.
So, nothing has really changed about Nollywood and Ghollywood.
Who do you enjoy working with in Nollywood?
My all time is Genevieve Nnaji.The first time I came to Nigeria in 2007, she was the first person I worked with and I love her as well. I also love Mercy Johnson and Susan Peters. I love Mike Ezuruonye,Desmond Elliot,Emeka Ike,Jim Iyke,Chidi Mokeme and others.
Tell us about your life?
I wish there is something to say. Journalists keep writing about me because I never come out with who I am dating.Really,I am just there, happy and happy with my love life. I used to be in love but not in love anymore.Maybe,when I was 18,maybe my first love.
Tell us your kind of man?
I am not that kind of choosy person. I don't look out for the very sexy type, someone that the garage is full with cars. But he must be hard working; he must be fun to be with. I don't deal with physical appearance.
Is it difficult to find the right man?
Yes, because for everybody in showbiz, it is difficult because Nigerians are used to the mentality of seeing you on TV and keep saying and thinking all sort of things, and it affects most of us in finding the real person.So,it's difficult unless the person does know what you are doing.