I FOUGHT GENOCIDE IN DARFUR WITH MY SONG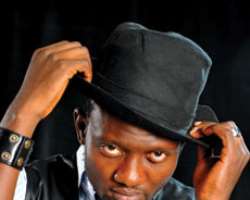 Femi Jubal
Oluwafemi Eziekel Akiode aka Femi Jubal took his stage name, Jubal from Genesis chapter 4 verse 21. According to him, he is the first Nigerian musician to get his name from the Bible. His parents, most especially, his father, who is a pastor in Foursquare Church, is happy with what he is doing. This is quite unexpected as they all sing in the family.
Born in Lagos, the Yewa, Ogun State indigene attended Abeokuta Grammar School and then proceeded to Lagos State Polytechnic where he read Insurance. Today, rather than go about selling insurance policy, Jubal is making money in real estate and music.
Femi Jubal started playing the piano from the age of six. He later developed an eclectic sound that swings between African beats, Nigerian folklore and rhythm. His tunes are a blend of Afro, soft rock, pop and reggae. He is an ethno-social crusader whose inspiration comes from his environment and artistes such as Majek Fashek.
Indeed, Jubal is passionate about people. His vision is to create avenue for change, justice, freedom, equality and love, using music as a weapon. He comes across as an inspirational speaker and human right crusader. As a prolific songwriter, his strongest tool is his words while music is his driving force.
The young musician has some singles and videos currently enjoying enormous airplay. These include Ere produced by Cobhams, Personal Person produced by DMM, 'One and Only' produced by Xela, and Naija Song produced by E. Kelly. But most important is his single, Cry of Africa, which was released in 2007, a song that reflects the pain, travail and triumph of the African people. The work, which featured in compilation CDs and won several competitions, received accolades within and outside the country. Now signed to Too Much Music, Femi Jubal is currently working on a new album entitled, My Name is Femi, and also doing collaborations with artistes in and outside Africa. He opens up to Blockbuster on his life and career. Enjoy:
Starting from church
I call my music a mixture of African tunes and folklores. I try to stay local and think global. I can actually put African tune in any genre of Afro pop music. I didn't choose music; music chose me because I started playing piano at age six. My family had crisis, so I was always going to church, and then from church to school. I was practically living in Four Square Gospel Church in Lagos then. I would be in church after school and when there was nothing to do; I would just start playing the piano. I started from there and later joined the choir.
From gospel to secular
I was not only into gospel music, I was also a pastor of a church but I don't want to mention its name. I heard a voice that the only place that light is relevant is in darkness. The voice vividly told me to take my music out to the world, that I can't remain permanently locked up in the four walls of the church and do well. Right now, I believe that my pulpit has moved from the church to the streets. I am doing conscious good music that will impact peoples' lives. Gospel is the message of God's kingdom; it is not restricted to Christian music. There is no such thing as secular in music. As long as you are a good musician, your music will make positive impact on people. Gospel music puts you in a box, with it you are unable to reach out to lots of people. Right now I speak the language of the streets.
Inspiration
I am in tune with the environment. I got most of my songs from what is happening around me. I am passionate about people. I can discuss with anybody. I can even converse with a mad man. I do get inspiration from those sundry things of life. The only song that came to me through dream is Akan Nse Arawa (Cry of Africa). One day, I watched Hotel Rwanda and actually cried after watching the movie. I cried and slept off. Later, I had a dream where I was singing the song, Cry of Africa. I woke up, picked up my piano and started playing tunes to the music.  I recorded the song in 2004/2007. The song actually went far. Outside Nigeria, it won a lot of competitions. The song was also a part of a compilation CD released in the United States for the underprivileged. Then a label added it to an album that was used to fight genocide in Darfur. I even supposed to go to Darfur to perform but my work did not permit me.
Life with so much music
In 2003/4, I released an album 'For Your Soul', which I did with some friends but it sold only 1000 copies. I guess if we had continued playing music we would have achieved more success. In 2007, Sage did a compilation CD, 'Beautiful Spectrum' that featured me among other 17 artistes. A lot of top artistes like MI, Jesse Jagz were on the album and Cobbams was one of the producers. In 2008, I met the proprietor of So Much Music and decided to continue my career with him. I discovered that the man had so much passion for music and together we have achieved a lot within a short period of time. We actually started in 2010 but we had achieved a lot in spite of the set backs that we had. We've got three videos on air right now. They include 'One and Only', 'Personal Person', and 'Personal Person 2'.
First time on radio
The first time I heard my music being played on radio, I ran around like mad. That day, I was in my sister's house in Abuja and she called me to say my music was playing on radio at that point. I didn't believe it. I sat down and listened to my song from beginning to end. I even recorded it on my phone. It was an unforgettable experience. Up till now, when I hear my music on radio, I become excited.
On Cobbams
I've known Cobbams a long time ago. He went to Kings College and used to come to a youth programme where I met him through a mutual friend. I've been eager to do something with Cobbams but he is hard to get. One day, we both met and I told him about the songs I was working on, and he agreed to produce them all.
On my new album
We are about dropping an album in October. It is entitled 'My Name is Femi' and it's going to be a 12-tracker. I produced all the songs in the album in collaboration with Cobbams, Abel, E.Kelly, DMM, and Sellar. The album will feature Face, Waje, Maximum and Ade Piper, my brother.
Challenges
My major challenge as an artiste is financial. From my experience so far, I realised that apart from having enough money to record, an artiste needs the right people to work with. Of course, music is all about passion. For instance, an artiste like Erika Badu will just walk in here and start singing because she has passion for music. But an average Nigerian musician is eager to make money; passion is not his driving force. I always tell people that life is not all about who sells the highest number of records, but about the impact you make on people with your music.
Greatest moment
My greatest moment as an artiste was when I was invited to perform in Darfur. I was really excited that I was going to Darfur to perform. In fact, if not for my tight schedule, I would have gone to Darfur with my guitar and camera. Having studied a lot about the people of Darfur, I would have sung for them, thrilled and posed for photographs with a lot of them. I would have met a young girl who was raped by 13 men and later gave birth to a girl. I was hoping to meet this girl, take her story and bring it back to Nigeria in form of music.
Lowest moment
Every success story has some failures in it. My lowest moment was that there was no encouragement from the people around me. That was the reason I decided to take up a job. But despite working and making money, I was still not happy with myself. One day, my boss called me aside and said she had noticed that I was not looking happy. She said: 'Femi, I notice that you are not happy with yourself. I can see that you actually want to sing. Now, I will release you so you can go and sing'. The woman paid me off immediately and I left to pursue music. Though, it has not been easy, I am happy doing what I am doing.
On women admirers
I don't want to sound like a self- righteous person, I have a girl friend. I am a one-girl-at-a-time man. I can't go out with two girls at a time. I don't know how to do it. I think I pick the habit from my father. My father always told me that in our family there's no record of polygamy. Any time my father had a quarrel with my mother, he would start boasting of his fidelity to her. Perhaps, I've been like this because I am not there yet but I believe when the time comes, God's grace will be sufficient for me.
Advice to upcoming artistes
They should always put God first and never forget the days of their humble beginning.
Lots of people that we started together back then forgot the days of their humble beginning, and this led to their down fall. So, the youth should always remember their humble beginnings. They should believe in their dreams and have respect for others.