Fashola Signs Bill To Checkmate Borrowing And Spending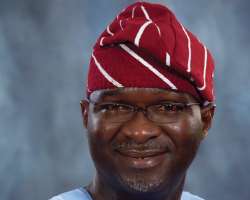 LAGOS STATE GOVERNOR BABATUNDE FASHOLA, SAN.
LAGOS, August 01, (THEWILL) - A bill aimed at regulating the powers of the Lagos State Government and its local governments to borrow funds to execute capital projects was Monday signed into law by the state governor, Mr. Babatunde Raji Fashola, SAN.
The governor said the new law is expected make government and public officers more accountable.
Lagos State currently has a debt portfolio of N124 billion most of which are credits used to fund infrastructural projects in the state.
The new law is titled: "Law to Regulate Financial Management of the State, Local Government and Local Council Development Area."
"The new legislation seeks to regulate the state and local governments in the way funds put in the trust of public officers are managed and to the extent that it seeks to utilize those funds to the manner that gives greatest value for money," Fashola stated.
The governor also Monday signed a bill to establish Customary Courts saying the law would help to regulate and promote the administration of justice with regards to customary courts and practices.