HOW FUNSO ADEOLU'S RUMOURED AFFAIR WITH FATHIA BALOGUN AFFECTED HIS CAREER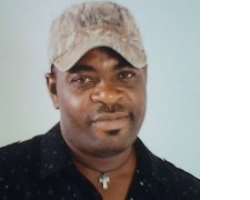 Before the turn around in his fortunes, Funso Adeolu was the hottest actor in the Yoruba movie sector and used to feature in six out of every ten movies released fortnightly in the Yoruba movie genre.
But that is no longer the case. We learnt from those in the know that back then, producers got their scripts written to accommodate Funso Adeolu and any marketer who did not see Funso's face in movie poster shunned such movies.
Even though he has been acting since 1987 when he acted in the television sitcom series, Palace, it was his near perfect delivery in the Yoruba movie, Ale Ariwo, that brought him to limelight and the top position he maintained till things started falling apart for him so much now that he hardly gets movie roles not to talk of the leading roles he was so used to playing in his hey days.
The reason for this, according to a very reliable grapevine source, is not because he has suddenly become a bad actor.
We gathered from the source that Funso's problem actually started years back after his fight with erstwhile friend, Saheed Balogun with Saheed accusing Funso of sleeping with his then wife, Fathia Balogun.
So ugly was the fight that Saheed was said to have engaged Funso in a fight after catching him red handed with his wife, Fathia and another actor, Femi Branch at a pepper soup joint in Ikorodu.
It was said that Saheed's grievance was why his wife would hang out with other men at such an ungodly hour at a pepper soup joint instead of going home after shooting a movie since they resided in the same Ikorodu area.
It was gathered that while the fight lasted, those who aligned with Saheed decided not to have anything to do with Funso Adeolu while others felt sympathy for Saheed and in solidarity, decided to blank out Funso whom they saw as a home breaker and wife snatcher.
We gathered that most producers detested having the two top actors on same movie set and as such, Funso was left in the cold with only a few who still patronize him.
The plan, we also learnt, was to gradually run out Funso from the movie industry by abandoning him completely.
Even though he is struggling to come back, we learnt from close industry watchers that Funso needs to add more effort especially now that it is rumoured that he has made up with Saheed after almost five years of acrimony.