CONTROVERSY OVER GOV.ROCHAS OKOROCHA'S APPOINTMENT OF ACTRESS NKIRU SYLVANUS AS HIS SPECIAL ASSISTANT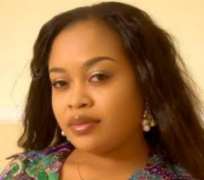 Not too long ago, the air was rife with the gist, that sultry actress,Nkiru Sylvanus,was in hot romance with Imo State Governor,Owelle Rochas Anayo Okorocha.
The gist started when Nkiru beat top stars like Bob Manuel Udokwu,John Fashanu,Stephanie Okereke,AY,Ali Baba and others to emerge the first Face of Hope ambassador,a concept created by Rochas Okorocha foundation.

Critics had then picked holes on her emergence arguing that she was not as hot as the other stars she beat to clinch the position and alleging that Rochas must have handpicked her himself.
The gist gained more ground when Nkiru relocated from Enugu to Abuja claiming that Abuja offered her more opportunity to start off her Face of Hope ambassador project.
Eventually three months ago, Rochas Okorocha was voted in as Imo State Governor.
The romance tales got hotter when Nkiru again left Abuja and relocated to Owerri the Imo State capital.
Many had interpreted her move to mean that she wanted to be very close to the new Imo Governor.
Indeed, many had started to forecast that Nkiru will be given the job of Special Assistant on Entertainment Matters, the position which was occupied last by ace comedian; Okey McAnthony Onyegbule popularly called Okey Bakassi.
Others however dispelled the forecast calling it a concoction of idle minds. According to them, despite her beauty and intelligence, Nkiru pales in significance to other Imo State born actresses or even male showbiz practitioners.
This is because Africa's Most Popular actress, Genevieve Nnaji as well as Rita Dominic, Stephanie Okereke, Eucharia Anunobi and many others hail from Imo State.
The argument was that even if the Governor wanted to give a portfolio to a female artiste, surely he would not lack in his choice as he has an array to pick from in his native Imo State.
But the suspicion that Gov.Rochas Okorocha has more than an artistic interest in Nkiru Sylvanus reverberated again last week, when the Governor appointed the actress who hails from Abia State as one of his Special Assistants.
Indeed, Nkiru was designated as the Special Assistant on Lagos Affairs. To balance the shock appointment, Gov.Okorocha had appointed ace comedian Uche Ogbuagu also as an SA with the novel tag of Special Assistant on Comedy.
But his critics are insisting that Nkiru has unsurped the slot of their other big stars. They argue that she shouldn't even have been so appointed by the new action Governor because it would look as if he was furthering his Face of Hope project with state funds.
Click the link below to go to ...
EXCLUSIVE: Nkiru Sylvanus speaks on her appointment as Special Assistant Lagos Affairs to Gov.Okorocha..

GOV.ROCHAS OKOROCHA