HIGHLIFE MUSICIAN,ALABA PEDRO DIES ON ARIK'S NEWYORK-LAGOS FLIGHT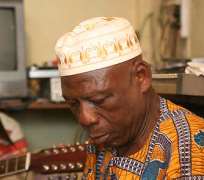 A 72 year old musician and member of the FAAJI AGBA musical group led by Fatai Rolling Dollars, Mr Alaba Pedro, on Tuesday died aboard an Arik flight operated on New York- Lagos route.
The late musician who was part of the musical group that went on a week musical tour of United State of America died about two hour into the 12 hour flight between New York and Lagos.
According to source, Late Pedro was discovered to have been weak while they were leaving their hotel for the airport.
The airline crew had requested if the late passenger would be able to make the flight which he said he could. But one hour into the flight, the late Pedro was said to have developed breathing problem and panting for breath before he finally gave up the ghost.
R.I.P Mr. Pedro.

FATAI ROLLING DOLLARS WITH FAAJI AGBA MEMBERS