CO-OWNER OF TRIBECA NITE CLUB,CHARLES AHIZE FINDS NEW LOVE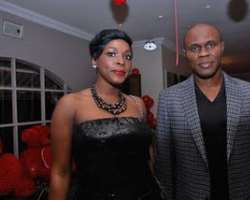 The hottest gist on the lips of those in Lagos and Abuja high society circles now is the steamy romance between Obigbo leader/founder, Chief Charles Ahize and 26years old charming Miss Maureen Emenalom.
Those in the know said ever since the multimillion Igbo born businessman had issues with his Calabar wife, Mercy and she moved out of their Lagos matrimonial home, Maureen has become a permanent feature in his life.
That's not all, insiders said the lovers are madly in love with each other and they do not hesitate to display their affection.
Sometime last year, he threw a lavish birthday bash for her and really shook Lagos Island with the bash as all the big boys and girls in Lagos high society circles stormed the grand event.
A few weeks back, the duo came to Nieshift Coliseum for an event and they were the cynosure of all eyes.
Chief Charles Ahize is a co-owner of Tribeca Nite Club, Lagos with Ahmed Uwebetina.
He's also the Chairman of Atlantic Autos Ltd.